Yemenis question US strategy in fight with al-Qaeda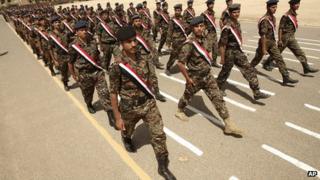 On the barren hills around the capital, Sanaa, troops from the Yemeni anti-terrorist division practice shooting cardboard militants.
But in Yemen the fight against al-Qaeda is real, and increasingly dangerous.
The US wants to stem the flow of Yemen-based jihadis plotting attacks on the West, and although America is not officially at war in Yemen, it is driving the war effort here.
"We are winning!" the local commander, dressed in a US-issued uniform, smiles at me, adding "Haven't you seen the news?"
The news is that the country's president, Abdrabbuh Mansour Hadi, has recently managed to push al-Qaeda-affiliated groups out of southern provinces of Abyan and Shebwa.
President Hadi was elected in February after a negotiated solution ended a year-long uprising in Yemen, and power was transferred from veteran leader Ali Abdullah Saleh to Mr Hadi, his then vice-president.
Al-Qaeda's presence in the country was, many here feel, part of President Saleh's legacy.
"Ali Abdullah Saleh was trying to cling on to power by showing the West that without him Yemen would fall apart," says Abdul Ghani al-Iriyani, a Sanaa-based analyst.
"So during the uprising he ordered troops to leave the entire areas in the south, handing them over to al-Qaeda."
'Best strategy'
For the Yemeni government, President Hadi's troop surge scored the first victory over militants and it gave the new leader a much-needed boost.
Mr Iriyani argues that the US should build on this success.
But for Yemenis, very little has changed. Nearly 200,000 people who were displaced by the fighting are still unable to return.
After driving the militants out, the army has not stayed on to secure the provinces, and there has been little if any reconstruction effort.
Al-Qaeda, in the meantime, is still strong.
The group has recently managed to strike targets right in the heart of the Sanaa.
One suicide bomb killed 100 soldiers at a military parade, another targeted police academy.
"The Yemeni government's recent surge has driven al-Qaeda militants out of their positions and they are back to their conventional strategy of hiding and hitting," says Turkish Ambassador to Yemen, Fazli Corman, who, like many diplomats. is concerned.
"There is an increased threat nowadays that we all should be more careful of."
Ambassador Corman also believes that engaging the local population would be the best strategy of fighting al-Qaeda.
"Conventional war, or drones, should be coupled with the strategy of improving living conditions and giving people hope," he says.
But that is not happening in Yemen.
'Counter-productive'
The US drives the war effort here and despite growing poverty and malnutrition, America's recently boosted humanitarian package to Yemen still lags behind its military aid.
In recent months the US also increased drone attacks on militants.
Last year, one such attack killed Anwar al-Awlaki, a US-born cleric who preached jihad online and is believed to have been an inspiration to some of the 9/11 bombers.
Awlaki's death was a big victory for the US, but the US Center for Constitutional Rights and the American Civil Liberties Union claim that it was unconstitutional.
Together with Awlaki's family, they have filed a lawsuit in the federal court suing senior CIA and military officials. They argue that the killing of US citizens by their own government in drone strikes in Yemen violates both the US constitution and international law.
Khaled, a young tribesman from Marib province, admits he does not know much about intricacies of international law but is adamant that killing people without trial or solid evidence is wrong.
"We were against Osama Bin Laden because he killed people without putting them on trial, and now they [the Americans] are doing the same here," he says.
Khaled's cousin, a local tribal sheikh, was recently killed in an American drone attack along with his 14-year-old son.
Khaled says he was probably in touch with the militants because they are so important locally, but he was also in contact with the Yemeni security forces and was never on a terrorist list.
"This is how you create grievances and revenge. My cousin had 30 children - what will happen to them? Will they end up as criminals or militants because there is no-one offering them an alternative," Khaled says.
After the attack, Khaled says, militants approached his cousin's eldest son.
They offered him compensation and bought him a new car. He has now joined al-Qaeda.
Khaled says al-Qaeda is a problem, but the way America and the Yemeni government are fighting them, he says is simply counter-productive.
"There are many types of al-Qaeda. The majority of them are not ideological. If you enforce security and rule-of-law and improve the economic situation then al-Qaeda will lose support and without support they will be easy to finish off," he says.
Under the President George W Bush, the US was often frustrated with Yemen for promising to join the fight against al-Qaeda while turning a blind eye to the group on the ground.
"In the past when [Ali Abdullah] Saleh was in charge, he was not sincerely fighting al-Qaeda, but now we should be given a chance to fight ourselves," says Mr Iriyani.
"For the first time we see the army successfully rooting out al-Qaeda militants. Why don't the Americans give Yemenis a chance to fight our own fight, and not complicate things with drone attacks," he says.
The remote control war of the US in Yemen has already cost many lives and even more of hearts and minds, and that, many believe, makes it much harder to win a battle which neither Yemen nor the world can afford to lose.