Palestinians appeal for support for UN member-state bid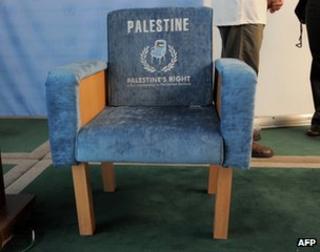 A senior Palestinian official has asked foreign diplomats in Jerusalem to support a renewed bid for member-state status at the United Nations.
Hanan Ashrawi, a Palestine Liberation Organization (PLO) executive committee member, said such an effort was a "test of global consensus and rule of law".
She also said the Palestinian Authority needed a financial "safety net" in case the US cut off aid because of the bid.
The US and Israel are opposed to making Palestine a full UN member state.
Washington says the move would further remove the possibility of a permanent peace deal, and last year suspended its funding of Unesco after it accepted a membership request.
'Co-ordinating efforts'
In a speech to envoys from countries in Europe, Latin America, Asia and the Middle East in East Jerusalem on Monday, Ms Ashrawi urged them to support the Palestinians' bid to be admitted to the UN as a "non-member observer state", an upgrade from the PLO's current status as a "permanent observer".
The request would be put to the UN General Assembly, where approval would require a simple majority of those present. There is no threat of veto, as there would be at the Security Council if the Palestinians sought full member-state status.
Being a non-member observer state - a status held by the Vatican - would improve the Palestinians' chances of joining UN agencies and the International Criminal Court, although the process would be neither automatic nor guaranteed.
"In light of the failed peace process and the inability of the international community to hold Israel accountable for its illegal occupation of Palestine and its countless unilateral violations of international and humanitarian law, Palestinians will persist in their efforts to seek state status, whether in the UN Security Council or in the UN General Assembly," Ms Ashrawi said.
"We reserve the right to undertake diplomatic and non-violent means to approach UN agencies and organisations for membership, and such efforts, consistent with the Palestinian people's right to self-determination and freedom, are a test of global consensus and rule of law."
"Even though the timing has yet to be determined, we are co-ordinating our efforts with Arab and Muslim countries, as well as with the international community," she added.
The Palestinians have long sought to establish an independent, sovereign state in the West Bank, including East Jerusalem, and the Gaza Strip. However, two decades of on-and-off peace talks have failed.
The latest round of negotiations broke down in late 2010 over the issue of Jewish settlement building in the West Bank and East Jerusalem. Attempts to restart direct talks have failed.