Egypt President Abdul Fattah al-Sisi: Ruler with an iron grip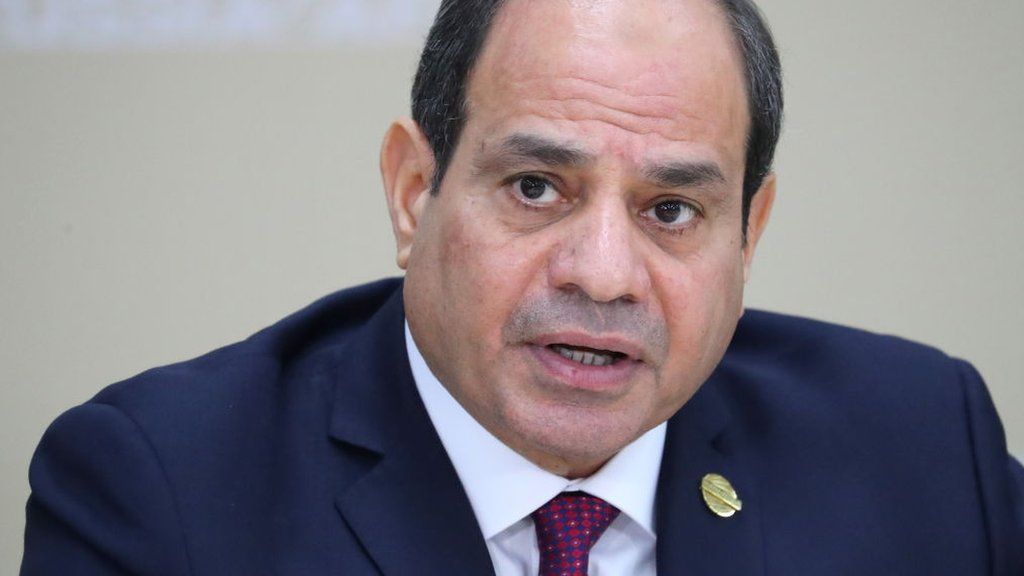 Abdul Fattah al-Sisi has been Egypt's president since 2014, a year after he led the military's overthrow of Islamist President Mohammed Morsi amid mass protests against his rule.
The retired field marshal's supporters say he has restored stability to the country, but critics argue it has come at a heavy cost to human rights.
More than 1,000 protesters have been killed in clashes with security forces and tens of thousands of people have reportedly been detained in crackdowns on opponents of the government.
Mr Sisi has also struggled to end an insurgency by jihadist militants based in the Sinai peninsula, who have killed hundreds of security personnel and civilians in unrest which began before he came to power.
Born in Cairo in 1954, Mr Sisi served in the infantry after graduating from the Egyptian Military Academy in 1977, rising to command a mechanised division.
He went on to serve as military attaché in Saudi Arabia, chief-of-staff and then commander of Egypt's Northern Military Zone, before being appointed head of Military Intelligence.
The then-general came to prominence in 2011 when he was named a member of the Supreme Council of the Armed Forces (Scaf), which took over running Egypt following the popular uprising that forced longtime President Hosni Mubarak to resign.
Gen Sisi, who was known as a devout Muslim, was reportedly tasked with liaising with the Muslim Brotherhood, an influential Islamist movement outlawed under Mubarak.
In June 2012 Mohammed Morsi, a senior figure in the Brotherhood, became Egypt's first democratically elected president. Two months later, he appointed Gen Sisi commander-in-chief of the military and defence minister.
The following year, nationwide protests erupted against the president and the Brotherhood-led government, motivated by anger at a perceived drift towards greater Islamist influence on public life, as well as continuing economic hardship.
As the pressure mounted at the end of June 2013, Gen Sisi warned that the army would intervene if the government did not respond to "the will of the people".
On 3 July 2013, Gen Sisi appeared on television to announce that the president had been removed from office, the constitution suspended, and an interim government installed. He said Morsi had failed to fulfil "the hope for a national consensus".
Tens of thousands of people celebrated in Tahrir Square, chanting "the people and the army are one hand" as helicopters flew overhead.
Before he was detained, Morsi rejected what he called a "complete military coup". He died in prison in 2019 while on trial.
'Crimes against humanity'
Muslim Brotherhood supporters and others opposed to the military's actions held protests throughout Egypt, but security forces confronted them with deadly force.
Human rights groups said up to 900 protesters were killed in Cairo's Rabaa al-Adawiya and al-Nahda squares on 14 August 2013. The government said many protesters were armed, and that a number of police were also killed.
The crackdown on the Brotherhood continued afterwards, with the group's leaders and thousands of its supporters arrested and the organisation once again banned in Egypt.
Many were later handed death sentences or lengthy prison terms at mass trials that activists said violated fundamental due process rights.
In January 2014, Gen Sisi was promoted to field marshal, Egypt's highest army rank, and received the military's blessing for a presidential run.
Two months later, he announced his retirement from the military and launched his election campaign. Under the slogan "Long Live Egypt", he outlined an ambitious plan to develop agriculture, housing, education and impoverished areas and boost employment.
Sisi was elected president in May 2014 with 97% of the vote.
On his plans to combat poverty, he pledged that Egyptians would see a better standard of living within two years. He called on the private and public sectors to help the poor by opting for "lower profit margins", otherwise the army itself would offer high quality goods at lower prices.
However, the standard of living for many in Egypt actually declined during President Sisi's first term in office.
The devaluation of Egypt's currency in 2016 and the withdrawal of fuel and other subsidies to meet the terms of a deal with the International Monetary Fund (IMF) affected Egyptians' spending power.
Other initiatives included the launch of a number of mega-projects to revive the economy, including a $8.2bn (£6.2bn) expansion of the Suez canal and a new capital expected to cost $45bn (£34bn).
The government said its actions were necessary to attract investment and help restore the economy, which suffered considerably with the drop in tourism that followed the 2011 revolution.
But many questioned whether the money for those and other projects could have been better used improving infrastructure and public services at a time when many Egyptians were struggling to make ends meet.
One of President Sisi's biggest challenges has been the security situation in the Sinai Peninsula, which borders Gaza and Israel and is home to Egypt's most active jihadist militants.
Although the army launched a security offensive in Sinai shortly after Morsi was ousted, the situation continued to deteriorate, with one local jihadist group pledging allegiance to the Islamic State group in 2014.
The group, known as Sinai Province, has mainly attacked military targets. But it also claimed it was behind the downing of a Russian passenger jet over the Sinai peninsula in October 2015, killing all 224 people on board.
In late 2017, the president launched a new military campaign against militants killed more than 300 people in a bomb and gun attack on a mosque in northern Sinai.
The atmosphere surrounding the 2018 presidential election was very different from the fervour of previous elections.
Opposition groups called for a boycott and human rights groups described the vote as "farcical" after three other contenders dropped out and another, a former military chief, was arrested.
Mr Sisi went on to secure a landslide victory.
The following year, controversial constitutional amendments were passed following a referendum.
The new laws, which Human Rights Watch said would "consolidate authoritarian rule", extended presidential limits and meant that Mr Sisi would be able to remain in power until 2030.
Public expressions of opposition in Egypt have been curtailed by a 2013 law banning unauthorised demonstrations.
However, protesters defied the restrictions in 2016 as public anger grew over Mr Sisi's decision to transfer sovereignty of two Red Sea islands to Saudi Arabia.
Demonstrations also took place in late 2019, sparked by a series of videos published by a former military contractor living in self-imposed exile in Spain, who accused Mr Sisi and senior officials of corruption - a charge the president denied.
While the protests were relatively small and short-lived, they were the first to directly oppose Mr Sisi's rule in years.
Although Mr Sisi's government has been criticised over its human rights record, particularly following the murder of the Italian student Giulio Regeni in 2016, it has remained a close US ally.
In 2017, Mr Sisi became the first Egyptian leader to visit the White House since the 2011 revolution, and visited again in 2019. The US also agreed to host talks over a long-running dispute between Egypt, Sudan and Ethiopia over a planned Ethiopian dam on the river Nile that was opposed by Egypt.
The Egyptian leader - who US President Donald Trump once called "my favourite dictator" - has portrayed himself as the only person capable of keeping order in Egypt.
"Be warned, what happened seven or eight years ago will not be repeated in Egypt," he said in 2018. "You don't seem to know me well enough. No, by God, the price of Egypt's stability and security is my life and the life of the army."