Egypt militants sentenced to death for al-Arish attacks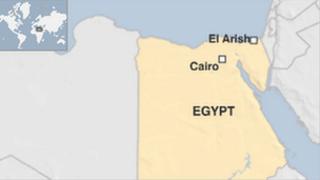 A court in Egypt has sentenced 14 members of a militant Islamist group to death for attacks in the town of al-Arish in the Sinai peninsula last year.
Several policemen and soldiers were killed in the attacks, which targeted a police station and a bank.
The sentences must be approved by Egypt's most senior Muslim cleric.
There has been concern over increased lawlessness in the Sinai peninsula since the revolution which overthrew President Mubarak in February 2011.
The court found the men committed the attacks as part of an illegal organisation, Al-Tawhid wa al-Jihad.
Earlier this month, 16 Egyptian policemen died when a border post in Sinai was attacked, the boldest attack against Egyptian troops in the region for years.
Attacks on checkpoints in al-Arish three days later prompted an offensive by the military against militant groups in the peninsula.
Residents of Sinai complain of decades of neglect by governments in Cairo, leading to an increase in support for extremist Islamist groups.