Palestinian prisoner's wife 'has son from smuggled sperm'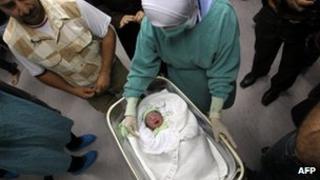 A Palestinian prisoner has fathered a son after his sperm was smuggled out of prison and his wife received artificial insemination, his family says.
Dallal al-Ziban gave birth to a baby boy earlier this week in a hospital in Nablus, despite not having seen her husband Ammar for more than 15 years.
Ziban is serving a life sentence in Israel for involvement in attacks by the militant group Hamas.
It is not clear how the sperm, if it was genuine, was smuggled out.
Conjugal visits for Palestinian prisoners are not permitted.
Ziban's son has been named Muhannad after a senior figure in Hamas's military wing who was killed by Israeli forces, his family says.
The couple already have two daughters from before Ziban was jailed.
"We received a sample of sperm from the husband in a reliable and clinically secure way," Dr Salem Abu al-Kheizaran, head of the fertility clinic in Nablus which carried out the insemination procedure, told the AFP news agency.
Israeli prisoners convicted of serious offences have previously been allowed to carry out artificial insemination with their wives, the BBC's Jon Donnison in Gaza reports.
Palestinian inmates have long demanded the same right, our correspondent adds.
Neither Dr Kheizaran nor Ziban's family has said whether a DNA test on the baby boy was carried out.