Yemen secessionist leader 'detained at Aden airport'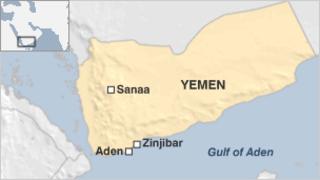 A South Yemen secessionist leader was detained by security forces when he flew into the city of Aden after years in self-imposed exile, activists say.
A group of armed men boarded the plane carrying Ahmed Abdullah al-Hassani, a former navy commander and ambassador, and took him to an unknown destination.
He is the secretary general of the Democratic Forum for South Yemen (TAJ).
The UK-based group actively advocates immediate independence for the South, which united with the North in 1990.
Separatists in southern Yemen have for years complained of political and economic marginalisation by the central government in Sanaa.
'Handcuffed'
Dozens of people were waiting to greet Mr Hassani at Aden's international airport when his plane flew in from Beirut on Wednesday, but he was seized before he reached them.
"I was among the people waiting for Hassani," Nasser al-Khabji - a leader of Hiraak al-Janoubi (Southern Movement), a popular protest movement that champions southern independence - told the AFP news agency.
"Suddenly, we found the security men handcuffing Hassani and leading him away in an unmarked car through a back gate."
Yemeni media reported earlier this week that Mr Hassani, who had been living in the UK since 2006, planned to meet other secessionist leaders.
He was a staunch opponent of former President Ali Abdullah Saleh, who led the North before unification and crushed a revolt in the south in 1994.
Mr Saleh handed over power to his deputy, Abdrabbuh Mansour Hadi, in November after months of anti-government protests.
A southerner, President Hadi rose through the ranks of the army of South Yemen and that of unified Yemen after 1990. He become defence minister and then vice-president in 1994, leading the military campaign against southern secessionists in the civil war.