Iraq bombings 'kill 10' in Diyala province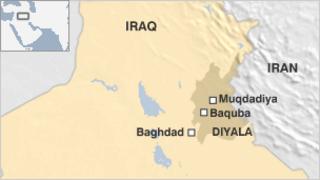 Three bomb blasts in towns north of the Iraqi capital Baghdad have left at least 10 people dead, officials say.
At least seven people were killed and 25 wounded by a car bomb in Muqdadiya, in Diyala province, followed by a blast that struck people gathering at the scene, according to police.
Earlier, three people died in a car bomb attack in nearby Baquba.
Iraq has seen a recent rise in violence thought linked to Sunni groups trying to undermine the Shia-led government.
More than 300 people died in attacks across Iraq in July - the highest monthly death toll since August 2010, according to government figures.
Although the violence is still below that seen at the height of Iraq's civil war in 2006 and 2007, it has been growing again since US troops withdrew last December.