Egypt villagers confront minister over water poisoning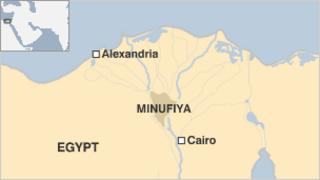 Egypt's health minister was locked inside a hospital room by villagers on Tuesday after contaminated water left dozens of people ill.
Mohammed Mustafa and Ashraf Hilal, the governor of Minufiya, were visiting sick residents of Sunsaft village when angry relatives confronted them.
They were shown bottles of water and told to "drink it", and were only freed an hour later after police intervened.
Samples of the water the villagers say is polluted is being tested.
Mr Mustafa has ordered the closure of illegal and unlicensed sources of water in Sunsaft, while Mr Hilal has suspended government employees responsible for its main water supply, according to the Associated Press.
The state-run news agency, Mena, said the number of those affected was more than 400, although previously officials put the figure at about 50.
The symptoms include severe diarrhoea, vomiting and high fevers.