Syrian woman tells of 'forced TV confession'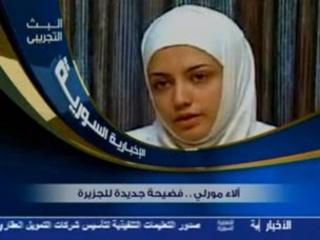 Turkey has become a haven for Syrians fleeing the fighting in their home country. Tens of thousands are living in camps dotted along the border.
But the country has also become a base from which opposition activists plot the downfall of President Bashar al-Assad's regime, and where fighters come to regroup and plan operations.
Many of these people have stories to tell that provide an insight into the rebels and their tactics, as well as life inside the regime.
On 18 June, Syrian state TV broadcast a startling interview with a young woman dressed in a white hijab.
In measured tones Alaa Morely said she had fabricated news reports for the al-Jazeera news channel.
She said she had been approached by a woman on Facebook.
Alaa had told her new friend that her ambition was to become a correspondent for a pan-Arab news channel.
Not long thereafter, her dream appeared to become reality. The woman asked her whether she was ready to start her new career.
No experience was needed, she was told - the newsroom would send her stories.
All Alaa had to do was lend her voice to the words, by telephone or on Skype, from inside Syria. The aim, Alaa told Syrian TV, was to discredit the Syrian government.
Except, none of it was true. Although Alaa looked calm and collected as she made her apparent admissions, she was speaking under duress.
'Mistaken identity'
We met Alaa one afternoon two months later, in an apartment in the eastern Turkish city of Antakya.
The previous night, as Muslims celebrated the end of the holy month of Ramadan, she had slipped across the Syrian border into Turkey.
Her story began on 12 June.
"I had just come out of an exam at university," she said. Alaa was in her third year of a degree in History at the University of Latakia, in north-western Syria.
"A security patrol stopped and asked me for my identity card. Then they bundled me into a car and took me to the headquarters of the security police."
For five hours, Alaa waited, wondering what might happen.
She had been active on the fringes of the opposition movement, she said, but was not seriously involved.
When an intelligence officer finally came to interrogate her, the whole thing appeared to be a case of mistaken identity.
"He addressed me by the name of Benan," she said.
She told the officer her name was not Benan, but Alaa.
"I said: 'I haven't done anything wrong. Why am I here?' He started shouting. I started shouting back. I was stressed and confused."
Another officer joined the interrogation. They told her they were holding her brother in another part of the building. Alaa felt she had no choice but to appear to co-operate.
"I said: 'What do you want from me? You want me to be this Benan Hassan? Ok, I am Benan Hassan.'"
An activist by the name of Benan Hassan was known for giving regular telephone interviews on al-Jazeera.
Prisoner exchange
Alaa said her false confession seemed to satisfy the security officers. She was thrown into a cell along with other prisoners. She was to remain locked up for two months.
Apart from verbal insults, Alaa says she was not treated badly.
All through our interview, she looks just as composed as she had when making her "confession" on Syrian state TV. But she admits, it was a frightening experience.
"All the time [in the cell] we could hear sounds. We would be in our cell and we would hear shouting from the next room. Sometimes we would hear the sound of a man's head being smashed against the wall."
But all the while, and unbeknown to her, the rebel Free Syrian Army (FSA) was working on a plan to secure her release.
Sitting next to Alaa in the spacious Antakya apartment is a man by the name of Said Tarboush.
Before the revolution, he had been a real-estate broker. Now sporting a bushy black beard, he had transformed himself into a rebel commander.
His brigade had captured a number of pro-regime gunmen - known as Shabiha - and had arranged a prisoner exchange.
"We were standing on the highway between Aleppo and Latakia," Mr Tarboush said as he recalled the culmination of weeks of negotiations.
"The negotiations had been conducted through a doctor. Alaa was there, at a security checkpoint manned by 400 members of the security forces and Shabiha."
Ultimatum
Latakia is Bashar al-Assad's heartland, home to many members of the president's own Alawite sect. Support for the regime is strong.
Mr Tarboush soon realised he and his men had fallen into a trap. The negotiator came to meet the rebels, leaving Alaa and her mother behind at the checkpoint.
"We handed over our prisoners, but he took Alaa and her mother back to the city, to Latakia."
"We lost contact for two hours. But then we got through to the negotiators on the phone, and we resorted to threatening them. We said we would torch all pro-regime villages in the vicinity."
The threat worked. Alaa and her mother were handed over to the FSA that night and they eventually made it to safety inside Turkey.
Alaa hopes to return to Latakia soon. But in the meantime, she says, her experience has brought her from the fringes of an opposition movement right into its centre.
"I want to continue down the path they forced me to embark upon. To begin with, I had nothing to do with what they accused me of. But now I want to continue until the end, until our revolution is victorious."