Egypt and Iran: Old enemies become new friends?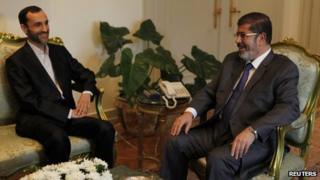 Egypt's new President, Mohammed Morsi, wants to signal the new direction for his foreign policy with the countries he chooses to visit on his first trips abroad since taking office two months ago.
Last week he travelled to Saudi Arabia, a long-time ally of Egypt that was close to his predecessor, Hosni Mubarak, seeking to put tensions aside. He is now planning to travel to China - in recognition of its role as an economic superpower - and Iran, according to the official Egyptian state news agency.
If the latter trip takes place as expected on 30 August, it will have special significance.
No Egyptian leader has set foot in Tehran since the mid-1970s. Diplomatic relations broke down after Cairo signed a peace treaty with Israel in 1979 and received the Shah, who fled Iran following the Islamic Revolution in the same year.
As the most populous Arab country and a historic regional heavyweight, Egypt, a predominantly Sunni Muslim power, has seen itself as a political rival of Shia Iran.
Under Mubarak, it united with other Sunni nations against the spread of Iranian influence. There were strained relations with Iran's proxies, Syria and the Lebanese Shia group Hezbollah, as well as Hamas, the Palestinian faction that governs Gaza.
'Sunni front'
Some analysts have expressed concern over the apparent decision of the new president, who hails from the Muslim Brotherhood, to reconnect with Iran. They note that Tehran hailed Mr Morsi's election as an "Islamic awakening".
"The prospect of Morsi using his position to repair ties with Iran has been hotly debated in the Western and Israeli press since his election victory in June," comments David Hartwell, senior Middle East analyst at IHS Jane's.
"Egypt has sided with Saudi Arabia and Jordan to form a bulwark against what they have traditionally perceived to be expansion of Shia Iranian hegemony in the Middle East. As such, any sign that Egypt's commitment to this 'Sunni front' might be weakening will be viewed with alarm."
However, it could be that too much is being read into Mohammed Morsi's decision to attend the Non-Aligned Movement summit in Iran. He has a role to play in the meeting, handing over the rotating leadership of the bloc, which was established during the Cold War as an advocate for developing nations.
"Morsi's visit to Iran, if it materialises, would clearly be a symbolically important step, but perhaps not as important as the alarmists suggest," says Elijah Zarwan, an Egypt expert at the European Council on Foreign Relations.
"As the current head of the Non-Aligned Movement, it would be hard for Morsi not to attend and still look serious about the group, which Egypt does take seriously as a magnifier of its diplomatic influence."
He suggests that normalisation of relations will take more time.
"Even small concrete changes to Egypt's Iran policy will likely come only after intense negotiations, including on Tehran's support for Damascus," Mr Zarwan says. "Morsi would have to carefully weigh any steps toward better relations against resistance from within the Egyptian state, and from Egypt's allies in the Gulf and further afield."
'Careful path'
When I met a member of the Foreign Relations Unit from the Muslim Brotherhood's political wing recently, there was a clear intention to tread carefully.
"We believe that Iran has very bad practices in international relations whether with the Gulf countries or with the Syrian revolution, and we have a permanent problem with the Shia issue - they're trying to spread this all over the region," the official said.
"We're not willing to stress this relationship or fortify it or build new links. We're trying to have normal relations, very slow in pace and very alert because we don't trust their foreign relations at all."
Iran and Hezbollah have seen their reputations tarnished by the bloody 18-month conflict in Syria and their support for President Bashar al-Assad and his Alawite sect, viewed as an offshoot of Shia Islam.
"Iran's entry point to the Arab world was through Syria. They're losing that now and I think it's very obvious to everyone that Iran is supporting a barbaric Syrian regime and that has hurt Iran's standing in the region," observed Shadi Hamid of the Brookings Doha Centre.
While Iran has lost a strategic foothold in the Middle East, Hezbollah has lost a valuable route for supplies of Iranian weapons.
At the same time, Hamas has moved its political leaders out of Damascus, where they lived in exile, and now hopes to take advantage of the rise in power of Sunni Islamist groups to which it has closer ideological connections.
Egypt sees itself on the right side of historic events in the region, and President Morsi will hope to use his trip to Iran as an opportunity to steer the agenda.
Already he has called for President Assad's removal. At the Organisation of Islamic Co-operation summit in the holy city of Mecca last week, he also proposed the formation of a contact group - comprising Egypt, Saudi Arabia, Turkey and Iran - to mediate a solution to the Syria conflict.
Only time will tell if such an initiative will come to pass, but for Egyptians this is a chance to show they are regaining their regional clout, and with it their national pride.