Egypt's Mursi bans pre-trial detention of journalists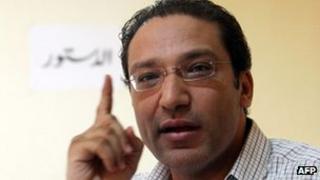 Egypt's president has passed a law banning the pre-trial detention of journalists, after coming under fire over the arrest of two critics.
The order reverses a decision made hours earlier by a court in Cairo to detain Islam Afifi, a newspaper editor, until his next trial hearing.
Mr Afifi and TV station owner Tawfiq Ukasha were both charged after insulting President Mohammed Mursi.
Meanwhile, crowds are gathering in Cairo to protest against the president.
A headline by the independent daily al-Masry al-Youm newspaper called the demonstration "the first test for Mursi".
'Stoking sectarian tension'
A spokesman for Mr Mursi said Mr Afifi, who edits the small independent newspaper al-Dustour, will be released from custody, ahead of his next hearing in September.
The law, which was passed on Thursday, is the first issued by Mr Mursi since assuming legislative powers earlier this month.
Correspondents say the move is designed to counter criticism that Mr Mursi and his Muslim Brotherhood backers are trying to suppress the opposition.
Mr Afifi is awaiting trial for publishing "false information" deemed insulting to Mr Mursi and which could also stoke sectarian tension, prosecutors said earlier this month.
The 11 August edition of al-Dustour was seized after a court order.
An editorial in the confiscated copies had warned of a Brotherhood "emirate" taking over Egypt and called on Egyptians to join the military's fight against Islamism.
Mr Ukasha, who is also a leading presenter on his al-Faraeen TV station, was meanwhile accused of "incitement to murder" President Mursi. His station has been ordered off the air for a month and threatened with closure.
The US, which provides Egypt with substantial financial aid, on Thursday called for Egypt to ensure freedom of speech was being respected.
"We did express concerns quite strongly that one of the cornerstones of a vibrant democracy is a free press and respect for freedom of expression," US state department spokeswoman Victoria Nuland said.
Meanwhile, protesters in Cairo say they plan to march to the presidential palace to demand Mr Mursi's resignation.
However notable liberal groups, such as the April 6 youth movement which helping galvanise protests during last year's toppling of Hosni Mubarak, have not joined the rallies.