Syria conflict: Japan reporter Mika Yamamoto flown home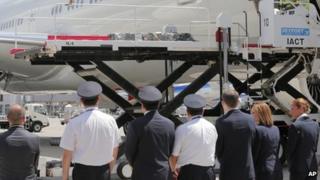 The body of Japanese journalist Mika Yamamoto has been flown to Tokyo after she was killed while travelling with Syrian rebels in the city of Aleppo.
Yamamoto, 45, was fatally wounded by cross-fire on 20 August. Three journalists - one Jordanian, one Turkish and one American - are missing.
Meanwhile, a Lebanese Shia held hostage by Syrian rebels has been freed.
The man was part of a group of 11 captured in May. They say they were travelling as pilgrims.
However, a Lebanese Shia clan took several hostages in retaliation.
Funeral
Yamamoto was the first foreign journalist killed in Aleppo since a Syrian government offensive against rebels began last month.
Kazutaka Sato, her colleague from the Japan Press news agency who was with her in Aleppo, was unhurt.
"It was good that she could be brought back but I have no words to describe the fact that she has to be brought back in this state," he told journalists at Narita airport, east of Tokyo.
The Committee to Protect Journalists says at least 16 journalists have been killed in Syria since November, making it the most dangerous place in the world for journalists.
Austin Tice, 31, an American journalist reporting for the McClatchy group from Syria, has not been heard from since 11 August, when he had planned to leave the country.
Mr Tice, who had served in the US Marine Corps, entered Syria in May. His editors at McClatchy say they are working with US government agencies and Syrian intermediaries to retrace his movements.
A team from the US-funded al-Hurra TV network, last seen in Aleppo on 20 August, have been reported missing.
Bashar Fahmi, a Jordanian reporter working for the US-funded al-Hurra TV network, was last seen in one of Yamamoto's TV reports, when he was sitting behind her.
He and his Turkish cameraman, Cuneyt Unal, are believe to have been arrested by Syrian forces in Aleppo.
Tensions spill over
Separately, Syrian rebels released one of a group of 11 Lebanese Shia held hostage since May.
The group say they were pilgrims, but the mainly Sunni rebels accused them of being members of the powerful Shia Islamist movement Hezbollah who had entered Syria to fight for the government.
Hezbollah has denied any connections with them.
Tensions continued to rise with the kidnapping earlier this month of dozens of Sunnis by the Lebanese Shia al-Mekdad clan in retaliation for the abduction of one of their members in Syria.
The Mekdads say they will start releasing their hostages.
Meanwhile, the head of the UN mission to Syria has left the country after the mission was wound up.
Senegalese Lt Gen Babacar Gaye joined a UN convoy to Beirut on Saturday.
Last week the UN decided against extending the mission, which was originally part of a six-point peace plan for Syria.
However, the ceasefire mandated by the plan never took hold and rising violence forced the UN monitors to be confined to their hotels since June.