Syria crisis: 'Deadly Aleppo strike' as UN envoy starts job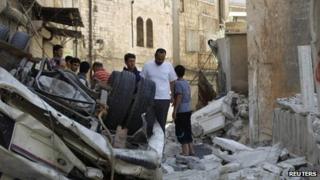 Opposition activists in Syria say more than 25 people have been killed by an air strike in al-Bab, Aleppo province.
More than 100 people have also died elsewhere, they said, including five killed by a bomb in Damascus.
In an interview with the BBC, the new international envoy to Syria, Lakhdar Brahimi, has said his mission to stop the fighting is "nearly impossible".
Mr Brahimi, who takes over from Kofi Annan, is expected to hold talks in Syria with President Bashar al-Assad.
Separately, the head of the Red Cross was beginning a three-day visit to Syria on Monday in an attempt to improve aid access to civilians.
Peter Maurer said in a statement that "an adequate humanitarian response is required to keep pace" with the worsening violence.
'Bulldozers'
Human rights groups said several women and children were among the more than 25 people killed when a building in al-Bab was attacked by a government jet.
The town, north-east of Aleppo city, appears to be largely in rebel hands and has been heavily pounded by government forces in recent weeks, says the BBC's Jim Muir in Lebanon.
In Damascus, one building was badly damaged by a car bombing in the suburb of Jaramana. Five people were reported killed. Syrian state news agency Sana said women and children were also among the victims there.
No group has said it carried out the attack, but Sana blamed "an armed terrorist group".
The explosion is the second deadly bombing within a week targeting the predominantly Druze and Christian area of Jaramana.
Also in Damascus, there were reports that the government was bulldozing houses in the Tawahin district, in what activists said was collective punishment for protests against President Assad.
"The bulldozers are bringing down shops and houses. The inhabitants are in the streets," one woman told Reuters.
'Brick wall'
Mr Brahimi, the new UN-Arab League envoy on Syria, was appointed after Mr Annan resigned following the failure of his peace plan.
"I'm coming into this job with my eyes open, and no illusions," Mr Brahimi told the BBC's Lyse Doucet in an interview in New York. "I know how difficult it is - how nearly impossible. I can't say impossible - [it is] nearly impossible."
Mr Brahimi said he had so far failed to see "any cracks" in the "brick wall" that had defeated Mr Annan - an "intransigent" Syrian government, escalating rebel violence and a paralysed UN Security Council, where China and Russia have vetoed several resolutions aimed at putting pressure on Damascus.
He said he would keep Mr Annan's six-point peace plan in his "tool box" for possible adaptation, but admitted he "had ideas, but no plan yet", apart from talking to as many people as possible.
Addressing the Syrian government, he said the need for political change in Syria was "fundamental and urgent", but he refused to be drawn on whether President Assad should step down, as the opposition and several Western leaders are demanding.
"Change cannot be cosmetic," he said. "There will be a new order, but I do not know who will be the people in the order. That's for Syrians to decide."
Last month, the UN wound up the observer mission that had been tasked with monitoring the ceasefire in Syria under the Annan plan.
Information Minister Omran Zoabi said on Monday that any peace talks would collapse as long as foreign countries were supporting and arming the rebels, a frequent accusation by Damascus.
The Syrian government has also said it could use chemical or biological weapons if it were attacked from outside.
But on Monday, European leaders said they would respond robustly if it did so, with France's Foreign Minister Laurent Fabius saying the response would be "massive and blistering".
British Foreign Secretary William Hague said he had asked the UN Secretary-General Ban Ki-moon to ensure that UN experts could be deployed quickly if there were any reports of such weapons "being used or moved".
Activists say 20,000 people have died since the uprising against the Syrian government began last March.
Human rights groups say August was the deadliest month, with more than 5,000 people killed, according to the pro-rebel Syrian Observatory for Human Rights.