Former Egypt culture minister charged with corruption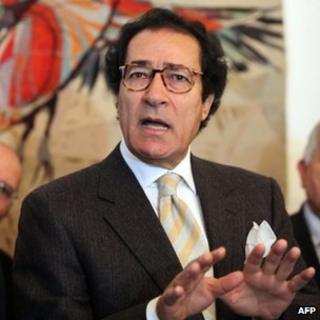 A former Egyptian culture minister has been charged with corruption.
State media said Farouk Hosni, who served for more than two decades under Hosni Mubarak, had failed to explain how he had about $3m (£1.9m) in assets.
Mr Hosni insisted that his wealth had been legally obtained through investments and sales of his paintings.
In a separate development, justice ministry officials also announced an investigation into new corruption claims against Mubarak and his family.
The allegations pertain to a purchase of state-owned land north of the capital, Cairo, the state-owned newspaper al-Ahram reported.
Mubarak is currently serving life in prison after being found guilty in June of conspiring in the killing of protesters during the uprising in 2011.
His sons, Gamal and Alaa, are currently being held in custody on suspicion of insider trading relating to a bank sale after being acquitted, along with their father, of another corruption charge.
Their mother, Suzanne, was released from custody last year after agreeing to turn over about $4m (£2.5m) in assets alleged to have been stolen from the state.
Last week, Mubarak's last prime minister and former presidential candidate, Ahmed Shafiq, was placed on a watchlist at border points pending an investigation into his involvement in the sale of state-owned land to Gamal and Alaa Mubarak in 1993.
Mr Hosni, who became culture minister in 1987, was close to the Mubarak family. He was dismissed in 2011 during the uprising and was for a time banned from leaving Egypt.
On Tuesday, the head of the Illicit Gains Authority, Assem al-Gohari, said he had decided to refer Mr Hosni to court for trial on charges of "accomplishing illegal gains estimated at 18m Egyptian pounds ($3m)".
Mr Hosni told the Akhbar al-Youm newspaper that his wealth was the result of investments and sales of his paintings. He is reportedly an artist known for his brightly coloured abstract canvases.