Syria crisis: Desperate plight of displaced civilians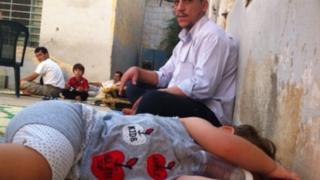 With the conflict in Syria raging, many civilians who headed to Damascus to seek safety have found themselves caught in crossfire with no shelter and little food, a journalist there finds.
On a back street in a suburb of Damascus, down the hill from a green park surrounded by urban destruction, nine families from different parts of the country are sheltering from the fighting in an old house.
The building has a central courtyard, which links several rooms with a bathroom and a small kitchen which the families share.
In the courtyard, men and women sit on plastic mats, watching a small television for news about the latest violence. Some of their children play hide and seek, while others draw and paint.
Every family has a story to tell - stories of fear and horror, of blood and loss.
One of the men, Abu Salem, says he fled the central town of Rastan with his wife and four children four months ago after a rocket hit their house.
They travelled to Damascus and ended up renting a 50 sq m (538 sq ft) flat in one of the capital's suburbs. Then early last month, the area came under heavy bombardment from government forces.
Abu Salem says they yet again had to flee, but this time there was no place to go except a nearby public park. They spent 12 days there with many other families until some aid workers found them a place at the old house.
"The neighbours provided us with some food, but we spent 12 days without a shower," he recalls.
Abu Salem used to work in construction but - like hundreds of thousands of other Syrian men - he has not earned anything since protests against President Bashar al-Assad began in March 2011. Like hundreds of thousands of other Syrians, he and his family have also been displaced from their homes by the ensuing conflict.
Money running out
Nada is a volunteer aid worker.
She does not work with the United Nations or the International Committee of the Red Cross (ICRC), but rather with local communities trying to help families who have not yet received international aid being distributed by the Syrian Arab Red Crescent (SARC).
"Every time we approach SARC for some food parcels or medicine, they ask for full details of the families in need, which would be dangerous for many who are at risk of being detained by the security services," Nada says.
"In one neighbourhood we have 400 families for whom we are helping find places to live, as well as food and basic medical supplies.
"Providing each family with such things is costing us on a monthly basis around 20,000 Syrian pounds ($300)," she adds. "Prices have tripled, and we can hardly afford to feed them."
The aid which Nada and many others like her collect comes primarily from other Syrians, who want to support those affected by the conflict.
But after 18 months of conflict even the rich are running out of money.
Sitting among the children drawing in the courtyard of the house where Abu Salem's family is staying, Nada shows frustration at the dwindling support.
"It is getting harder by the day," she explains. "We are not able to find funding and when we try to reach the international donors, they are expecting us to operate like international non-governmental organisations."
"Everything we do is at high risk. We can't declare our identities and the aid work is all done in secret as the regime doesn't want to see people showing solidarity with those displaced by the fighting. We are at risk of detention every minute."
Shortages
In recent weeks, hundreds of families fled the violence in the suburbs of Damascus and ended up staying in schools, where the government provided temporary shelter.
The Syrian Arab Red Crescent, supported by the ICRC, is the sole provider of aid at the schools, but many volunteers who worked at them complained about the operation.
Ismail is a paediatrician who volunteered to perform check-ups on children at schools in his area.
However, he said that he received very little support from the SARC and that there were major shortages of supplies of food and medicine.
"In one school, I needed more than 200 bottles of medicine to combat contagious infections," Ismail said. "I received almost nothing of what I needed."
But some other volunteers who are working with the SARC say its staff are very dedicated but that the aid distribution system is not operating well.
Mohammad, who works for the SARC, says he is trying to make sure all complaints are met but that the organisation is a public one and, like others, is struggling to overcome both bureaucratic hurdles and the lack of experience of a crisis this large.
"People are really working hard but the demand is so huge. We need to be more efficient in responding to this big crisis," he says.
Mohammed also rejected the allegation that the SARC was failing to get aid to those in need.
But the reality remains that there are hundreds of thousands of Syrian families relying solely on the help of local communities and charities.
As schools prepare for the start of term, those seeking shelter in classrooms will have to leave. In some cases, they will be forced to go back onto the streets.
And if the crisis continues as winter approaches, many aid workers believe that Syria will begin to see widespread homelessness and starvation.