Syria crisis: Refugees' voices at Jordan's Zaatari camp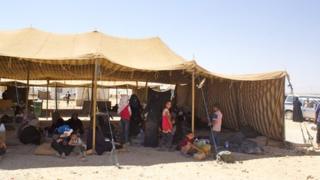 According to the UN High Commission for Refugees, the number of people fleeing the conflict in Syria has risen sharply. More than 100,000 people asked for asylum in August alone, bringing the total number of refugees fleeing Syria to more than 235,000.
Neighbouring countries like Jordan say about 1,000 Syrians are crossing the border every day. The Zaatari refugee camp in northern Jordan opened at the end of July, providing temporary accommodation to about 500 refugees. There are now up to 26,000 living there.
Many have fled the conflict in Deraa, just a few kilometres away in southern Syria. The BBC's Yolande Knell and Jeannie Assad met some of the refugees.
Abdul Salaam Refaie
I have my whole family here - my wife and my kids. We've been in the camp for 18 days.
We had to leave Syria to escape the bombings and the killings. We had two young men killed from our extended family when the fighter planes were attacking us.
Lots of people fled but the journey to reach Jordan was very difficult and dangerous. We left at night because that was the way to do it and we got smuggled out but still we had to walk for four hours to get here.
The situation here in the camp is really difficult. I mean look at us - we're living in a tent on the ground. Most of the food we get is spoiled.
They won't allow us to leave the camp and they won't allow anyone to visit us. We just stay put as you see and do nothing.
Who knows how it's going to be here in the winter. Will they provide heaters or caravans?
There are different reports each day. We are living with uncertainty.
Fatima
I've been at the camp since [the Islamic festival of] Eid, just over two weeks ago.
We had to run away from Syria. We had to run from Bashar's bombings. He destroyed our homes. Now we have no homes.
We ran away from being slaughtered. We just ran with our kids. We took them and fled.
We're living like animals here. The dust and the sun are unbearable. Just look at these children! How do they take it?
We have no clothing, we hardly have enough water and sometimes there's no electricity.
There are not enough bathrooms for everyone. Sometimes we have to stand in line.
We ask if we can leave the camp to buy things and they won't let us leave. Each day there is the same food: chicken and rice.
This is no way to live.
Hajja Aisha
I've been here for a month with my daughters and my sons-in-law. We ran away from our home because we feared we'd be killed.
Bashar is killing us. But this is an unbearable life here in the camp. It's like we're dead.
Just look at the dust and the dirt. I can't see any more from the dust. We sit in the dust, we eat in the dust and we sleep in the dust. It's not a comfortable existence at all.
I really, really want to go home, back to my own country. This is the only thing that I ask of God.
I want to go home but there's nothing to go back to. They destroyed all the houses in our neighbourhood.
Where are we supposed to go?
Abdullah, 16-year-old unaccompanied minor
I'm here alone. All of my family is still in Syria - my mother and father and my brothers.
I'm worried about them. I fear for their lives. They were supposed to follow me but when they heard that the situation in the camp was like this they changed their minds.
They don't want to come. If we were allowed to go somewhere else they probably would have come.
I don't want to stay here by myself. I just want to go back to my family.
I asked the camp administration if I could go home. At first they wouldn't allow me but now they say I can. I might go tomorrow.
They take us in a bus to near the border. I'm not afraid any more. If we die, we die.
If my family had come here with me, I'd probably stick it out here but since the situation is so bad, I will just go back.
Bushra
We left because of the shelling and the bombing and the oppression of Bashar in Syria.
It was really becoming intolerable, but here in the camp life is really difficult too. It's hot and we don't have water all the time.
They won't let us return to Syria and they won't let us leave the camp to try to find another place to go.
I guess I would rather go back to Syria instead of living like this, even though it's still dangerous.
At least it's my home and we have our house there. My only wish now is that we can go back to our home in Syria and return to a normal life.
Umm Hassan
I was crying, begging for one of these new caravans and then we finally moved in yesterday.
It's a bit better than being in the tent. Now we're trying to make it feel as much like a home as possible.
My husband and I are getting help from our nine kids. The problem is still the dust. Every time we clean, the dust comes back.
We fled Syria because of the children. All this suffering is for them because we needed to get them out of danger.
We've been in the Zaatari camp for a month now and before that we were in the Beshabsha transit camp in Jordan.
My husband has been trying to bring in a little income by opening a small store here but it's very difficult. The Jordanians strictly control the goods coming in.
Even visitors aren't allowed. The other day my brother was here from morning until midnight trying to enter but he couldn't. It's like a prison.
More than anything we want to go home. We're really tired. It's not easy living like this.