Yemen army 'kills al-Qaeda militants' in Abyan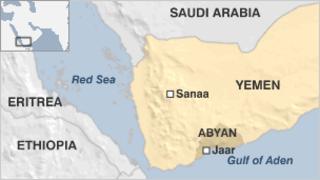 Yemen's army and allied tribal fighters have killed at least four suspected al-Qaeda militants in the south of the country, officials say.
They say at least two government soldiers were injured in the gunfight in the Abyan province.
The fighting was reportedly prompted by the attempted assassination of one of the tribal militia leaders.
The army and local tribes have often fought together to try to drive al-Qaeda militants out of southern Yemen.
Al-Qaeda remains active in the area, after a security vacuum was created in a year of protests against former president Ali Abdullah Saleh.
Militants have seized large parts of the south and east of the country.
A recent two-month military offensive - backed by the US - drove them from their strongholds in towns in Abyan, but many escaped into nearby mountains from where they continue to launch attacks.
In June, 17 militants and at least two government soldiers died in clashes in the south.