Gaza Strip: Children hurt as Israel strikes tunnels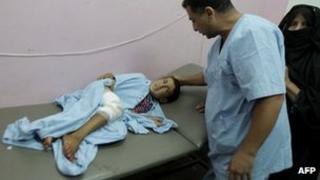 Two Palestinian children have been injured by Israeli air strikes on smuggling tunnels between Gaza and Egypt, Palestinian medics say.
Two other air strikes hit facilities used by Islamist militants, Gaza's governing Hamas group said.
The air strikes came after at least seven Israelis were injured during rocket attacks from Gaza on Sunday.
Cross-border violence between militants in Gaza and Israel has escalated in recent days.
Palestinian sources say the injured boys were brothers aged seven and 10.
Israel said its air force hit "an arms factory, a site of terrorist activity and a terrorist tunnel in the north of the Gaza Strip, and a smuggling tunnel in the south of the Strip".
Israel holds Hamas responsible for all rockets attacks from Gaza, even if - as in recent days - those attacks are carried out by other Palestinian militant organisations.
Three grad missiles landed in southern Israel on Sunday morning, one of them destroying a house in the town of Netivot.
Israeli Prime Minister Benjamin Netanyahu has warned that militants who attack Israel "have paid a price in the past for these crimes, and they'll pay a price again".
Last week, six Palestinians whom Israel said were preparing rocket and bomb attacks were killed in air strikes on Gaza.