Said al-Shihri death a serious blow to al-Qaeda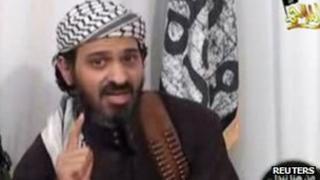 This is not the first time that al-Qaeda in the Arabian Peninsula's number two has been reported killed in an air strike in Yemen.
If confirmed, it will be a serious, though not fatal, blow to the group.
Yemeni government sources say the Saudi national, Said al-Shihri, was killed along with several other militants in an air strike on his vehicle in a remote valley in the eastern region of Hadramawt.
There are conflicting reports as to whether this was conducted by the Yemeni air force or, far more likely, by missiles fired from an unmanned Reaper drone operated by the US Central Intelligence Agency.
Al-Shihri was a fanatical Saudi jihadist who went to Afghanistan soon after the 9/11 attacks.
He was captured on the battlefield and became one of the first prisoners to be flown to the controversial US detention facility at Guantanamo Bay in Cuba.
After more than six years there he was handed over to the Saudi authorities who put him through their rehabilitation programme to try to wean captured militants off the path of violent jihad.
In his case it failed. Soon after his release into Saudi society, al-Shihri fled across the southern border into Yemen, where he appeared in a defiant video with other al-Qaeda leaders.
Over the next five years he built up a reputation as a fiery and charismatic militant leader, hiding out in the wild, ungoverned wadis of south-eastern Yemen while being actively involved in recruiting new members, especially from Saudi Arabia, and planning targets for attack including individuals for kidnap.
But Said al-Shihri was not considered by Washington to be the most dangerous member of al-Qaeda in Yemen.
That person is Ibrahim Hassan Tali al-Asiri, the Saudi bombmaker who sent his brother to Jeddah with a concealed suicide device that intended, but failed, to assassinate the prince in charge of Saudi counter-terrorism.
He is also believed to have designed and fitted the "underpants bomb" taken by the Nigerian jihadist Umar Farouk Abdulmutallab on a flight to Detroit, and to have sent bombs hidden inside printer toner cartridges on cargo flights bound for the US.
It is for this reason that al-Qaeda in the Arabian Peninsula is designated by the US and Britain as the most dangerous branch of al-Qaeda anywhere in the world.
Its numbers may be small, its members mostly focused for now on seizing land and power in parts of Yemen, but its attempts to reach out from an ungoverned space and strike - albeit unsuccessfully - at the international airline industry make it an ongoing threat to be reckoned with.