Syria envoy Lakhdar Brahimi warning follows Assad meeting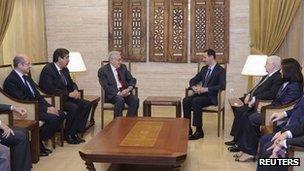 New Syrian peace envoy Lakhdar Brahimi has held his first talks with President Bashar al-Assad, in Damascus.
He warned after the meeting that the crisis was deteriorating and presented a "threat to the world", as well as the region and the Syrian people.
The UN-Arab League mediator is on his first trip to Syria, where thousands have been killed since the conflict began in March last year.
Mr Brahimi's spokesman described the talks as frank and comprehensive.
In the latest fighting, the activist group Syrian Observatory for Human Rights said at least 132 people were killed in Syria on Friday, 100 of them civilians, including 18 in Damascus, the capital.
The report has not been independently verified.
"The crisis is dangerous and getting worse, and it is a threat to the Syrian people, the region and the world," the veteran Algerian diplomat told reporters after his meeting with the Syrian president.
"We will make a great effort to make progress, and do our best ... to help the Syrian people," he said, without giving specifics on how he would go about it.
His spokesman, Ahmed Fawzi, described the talks as "serious, frank and comprehensive."
Officially Mr Brahimi says he is still only in listening mode, but the spokesman said his talks with Mr Assad had gone further than this, with various proposals put forward by both men, says the BBC's Richard Galpin.
Mr Brahimi, who took over from Kofi Annan as envoy two weeks ago, met members of the officially tolerated opposition on Friday.
The veteran Algerian diplomat held talks with members of the National Co-ordination Committee for Democratic Change, which includes Arab nationalists, Kurds and socialists.
"We told Mr Brahimi... of our support for his efforts to resolve the crisis by ending the violence and killings, providing medical care and releasing political prisoners," Hassan Abdel Azim, the bloc spokesman, was quoted as saying by Reuters.
When he took over the post, Mr Brahimi said bringing peace to Syria would be "nearly impossible". He has described the bloodshed there as "staggering" and the destruction as "catastrophic".