Egypt security HQ in Sinai hit by militants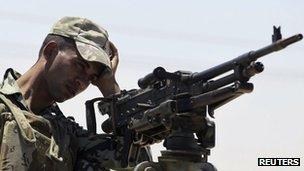 Suspected Islamist militants have attacked an Egyptian security HQ in Sinai, firing crude rockets and bullets from a nearby building, officials say.
They said the attack in al-Arish set off battles between militants and security forces in surrounding streets.
One policeman was killed and three others were injured in separate clashes nearby.
The violence comes amid a security crackdown in the area after 16 Egyptian soldiers were killed in August.
The BBC's Jon Leyne, in Cairo, says the militants operating in Sinai are usually described as Islamists, but there is no clear idea exactly who they are.
Security experts say they are a combination of Egyptian and foreign Islamist militants, who take advantage of the lack of law and order in Sinai.
They appear to work with the local Bedouin, who have their own set of grievances against the Egyptian government, as well as engaging in smuggling across the border with Gaza and with Israel, our correspondent says.
In the attack on the North Sinai security headquarters, militants "positioned themselves on the roofs of buildings opposite" and launched the rocket propelled grenades, news agency AFP quoted a security official as saying.
Fighting stopped after the militants fled the area.
"It seems they set off an explosive device at the security headquarters first before using the RPGs," the official was quoted as saying.
In another incident in the town of Sheikh Zuwaid, nearer the border with the Gaza Strip, three policemen were hurt in clashes between militants and security forces.
One police officer was killed in a later exchange of fire between security forces and militants, Egypt's army spokesman Col Ahmed Mohammed Ali said later on Sunday.
There is no immediate evidence the latest clashes are connected with the controversy over a film that has outraged Muslims.
But our correspondent says the violence is fresh evidence that the area is still quite lawless, despite the Egyptian military build-up.
Since 1982, when Israeli troops withdrew, the Sinai peninsula has remained under a special security regime mandated by the peace treaty the two countries signed in 1979, which restricts Egypt's freedom of military action.