Gaza Vittorio Arrigoni murder: Four Palestinians jailed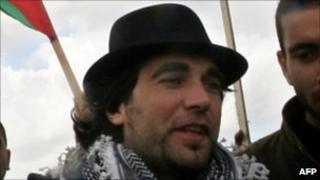 A Hamas-run military court in the Gaza Strip has convicted four Palestinians for their involvement in the abduction and murder of the Italian activist Vittorio Arrigoni in April 2011.
Two of the men were sentenced to life in prison, another was jailed for 10 years, and the fourth to one year.
Arrigoni, a pro-Palestinian activist, was killed by ultraconservative Islamists known as Salafists.
The 36 year old was found dead hours after he was seized in Gaza City.
Before he was strangled, a video showing him beaten and blindfolded was posted on a Salafist website. The kidnappers demanded the release of Salafists being detained in Hamas jails, including their leader.
Salafists call for a return to the practices of the first Muslims, in particular the "righteous ancestors", known as "al-Salaf al-Salih" in Arabic. Many of them consider Hamas - the Islamist movement which has governed Gaza since 2007 - as too moderate, says the BBC's Jon Donnison in Ramallah.
There was widespread outrage in Gaza at the killing of Arrigoni, who had been a member of the pro-Palestinian International Solidarity Movement (ISM), and had lived in the coastal territory for several years.
The Hamas authorities promised to track down those responsible.
A few days after the Italian's death, two of the suspected kidnappers were killed in a security operation. Several others were arrested.
On Monday, Mahmud al-Salfiti and Tamer al-Husasna were given life sentences for Arrigoni's kidnapping and murder.
Khadr Faruk Jerim received 10 years for kidnapping and Amer Abu Ghola one year for providing the apartment where Arrigoni was found.
He was the first foreigner kidnapped in Gaza since BBC journalist Alan Johnston was abducted in 2007.