Rafsanjani role in spotlight as children jailed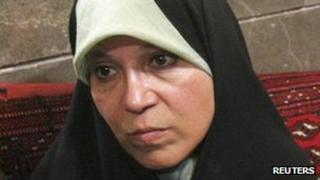 The son and daughter of former Iranian President Akbar Hashemi Rafsanjani have been sent to prison - the latest twist in a long-running power struggle at the top of Iranian politics.
Post-graduate student Mehdi Hashemi was ordered to spend the night in Tehran's Evin prison on Monday, following a day of questioning on charges of corruption and inciting unrest after the disputed 2009 elections.
He had only just returned to Iran after living in the UK for three years.
His sister, Faezeh, a former member of parliament, was taken to the same jail on Saturday to serve a six-month sentence imposed this year for "spreading anti-state propaganda".
The detention of Mehdi and Faezeh Hashemi has been a huge talking point in Iran over the past few days.
Although both have been active in Iranian politics for more than a decade, most people are asking what their jailing means for their father.
Pragmatic reputation
Akbar Hashemi Rafsanjani, one of the founders of the Islamic Republic, was president of Iran from 1989 to 1997.
For almost three decades he was seen as one of the most influential politicians in Iran, with a reputation in the West as a key pragmatist.
His star began to wane in 2005 when he stood for the presidency again, and was defeated by Mahmoud Ahmadinejad.
He is currently head of the Expediency Council, once Iran's chief policy-making body, which is now considerably weakened - a reflection of his own fading influence.
During the 2009 presidential elections, hardliners close to Iranian Supreme Leader Ayatollah Ali Khamenei accused Mr Rafsanjani and his family of supporting the opposition Green Movement which was leading protests against the disputed poll.
Since then his refusal to speak out against the Green Movement has seen Mr Rafsanjani come under increasing pressure.
He was removed as a Tehran Friday prayer leader shortly after the elections in 2009 and two years later he also lost his post as the head of the Assembly of Experts, the body which elects the Supreme Leader.
Mr Rafsanjani's supporters say the detention of two of his five children is a final move to silence him and prevent him intervening at a time of increasing tension in Iran on both the domestic and foreign policy fronts.
Observers agree that the arrest of Mehdi and Faezeh Hashemi could not have happened without the permission of the Supreme Leader.
His hardline supporters now dominate all sectors of government in Iran, including the economy, the military and the judiciary.
No comment - yet
Back in 1989, Mr Rafsanjani was instrumental in Ayatollah Khamenei's nomination as Supreme Leader.
But the detention of Mr Rafsanjani's children does not necessarily mean that he has played his last cards in the battle for influence with his one-time ally.
In the complex world of Iranian power-politics, things are far less black-and-white.
Despite the pressures he is under, Mr Rafsanjani played a prominent role in last month's Non-Aligned Summit in Tehran. He walked into the summit alongside Ayatollah Khamenei, and took his seat next to UN Secretary-General Ban Ki-moon.
And recently, President Mahmud Ahmadinejad seems to have adopted a new and more conciliatory approach towards Mr Rafsanjani.
As he fights his own bitter power struggle with hardliners loyal to the Supreme Leader, President Ahmadinejad has suddenly stopped criticising either Mr Rafsanjani or his family in public - something he used to do quite regularly.
Mr Rafsanjani himself has so far refrained from commenting on the detention of his children, but in the coming days and months Iranians will be watching his next steps closely.
The length of time Mehdi and Faezeh Hashemi are kept in jail, and whether their father chooses to challenge their detention publicly, could signal to pragmatists whether a window of opportunity might be opening for them to challenge the iron grip of the hardliners - and ultimately of the Supreme Leader himself.