Anti-Christian graffiti sprayed on Jerusalem convent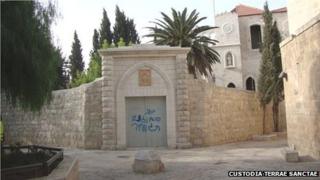 Vandals have spray-painted anti-Christian graffiti on the main door of a Franciscan convent in Jerusalem, Church officials have said.
Photographs published online showed blue graffiti denigrating Jesus at the Convent of Saint Francis on Mount Zion.
Also spray-painted on the door were the words "price tag".
Jewish settlers and extremists have been carrying out so-called "price-tag" attacks in retaliation for Israeli government curbs on settlement growth.
'Forces of hatred'
Israeli police spokesman Micky Rosenfeld said the attack on the convent happened in the early hours of Tuesday morning.
"We're investigating the incident," he told the AFP news agency.
The graffiti, which read "Jesus, son of a bitch, price tag", had already been removed by mid-morning, AFP reported.
Last month, vandals set fire to the door of a Cistercian (Trappist) monastery, the Abbaye de Notre-Dame de Sept-Douleurs, at Latrun, west of Jerusalem, in another apparent price-tag attack.
At the time, Christian leaders in the Holy Land condemned the attack by what they called "forces of hatred" and asked: "What is going on in Israeli society today that permits Christians to be scapegoated and targeted by these acts of violence?"
The Israeli government also denounced the "criminal act" and promised that those responsible would be "severely punished".