Egyptian steel magnate Ahmed Ezz convicted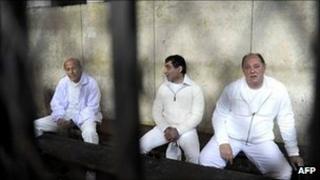 One of Egypt's most powerful businessmen has been convicted of money-laundering and fined nearly 20bn Egyptian pounds ($3bn; £2bn).
Ahmed Ezz, who was closely associated with former President Hosni Mubarak and his son, was sentenced to seven years in jail.
Ezz, once a prominent member of Mubarak's ruling National Democratic Party, was arrested in February 2011.
He is already serving a 10-year sentence for corruption.
Ezz made billions of dollars in the steel industry, but has been accused of using his political connections, particularly with Mubarak's son, Gamal, to exert monopoly control over the steel market.
Mubarak is currently serving a life sentence for failing to prevent the killing of protesters during the 18-day uprising that forced him to step down in February last year.
His sons Gamal and Alaa are in custody awaiting trial on insider trading and corruption charges.