Gaza's precious space and the cost of real estate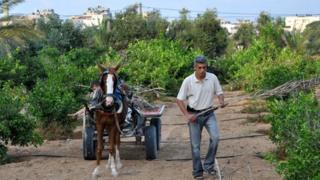 On a horse and cart winding his way through his olive grove, sun-kissed in the early evening autumn sunshine, I meet Hamed Talba.
A policeman by trade, Hamed has recently become a man of the land.
He's not really cut out as a farmer, striking something of an urbane figure. But this was an investment and it has proved very lucrative.
"I bought this plot for $90,000 (£56,000) in 2010," he tells me as he shows me round his land on the outskirts of Gaza City.
"I could sell it now for $180,000. Double!"
Hamed says he'll now look to buy a bigger plot somewhere else to build a house.
Gaza's green spaces are turning increasingly grey.
In Gaza city you can see what, at least in part, has driven the rapid rise in land prices.
Over the past year and a half there's been a building boom, fuelled by construction materials smuggled in through tunnels from Egypt.
There are new offices and flats going up everywhere.
The sound of jack hammers, drills and cement mixers raising the decibel level above the usual traffic din.
London, Paris, New York?
At one of the hotels he owns on Gaza's seafront, I meet Abdel Aziz Khaldi, one of the strip's richest men.
To look at, he's not a flash character, more of a middle manager than a multi-millionaire.
But there are a few signs of wealth.
He arrives in a brand new chunky looking BMW that, most likely, was also dragged into Gaza via the underground Egyptian route
Mr Khaldi is a land trader, a good business to be in right now.
"Land in Gaza City has gone up between 40 and 50% each year for the past few years," he says.
He says Gaza's fast-rising population and tiny size make land a good investment.
He adds that prices are highest in Gaza City, which people believe would be safer in the event of another war with Israel.
Mr Khaldi directs me to Omar Al Muktar Street, running alongside one of the city's main mosques and the nearby gold market. Apparently it's the most expensive bit of real estate in the whole of Gaza.
Omar Al Muktar Street is not much to look at. More Old Kent Road than Mayfair.
But a plot of land here could cost as much as $20,000 per sq m.
A quick trawl of international estate agents on the web, tells you that's a price that wouldn't be too out of place in some of the more swanky neighbourhoods of London, Paris or New York.
The question is: can anyone afford to buy it?
Tunnel millionaires
Some of the few who can have made their money down on Gaza's southern border with Egypt.
Not the dusty workers dragging bags of cement up from underground, but the bosses - the people running the tunnel industry bringing in smuggled goods.
The trade has flourished under an ongoing Israeli and Egyptian blockade tightened when Hamas came to power in Gaza.
In 2010, after international pressure, Israel eased the blockade allowing more goods into Gaza, but construction materials in particular remain heavily restricted.
Israel, which says its blockade is a security measure against arming Gaza's militants, fears the materials could be used for military purposes.
But the tunnel business has made a handful of people in Gaza, many with close ties to the Hamas government, very rich.
"The tunnel trade between Gaza and Egypt has led to he creation of what we call the new millionaires," says Omar Shabban, an economist with the Gaza based think tank Palthink.
"These new millionaires, maybe one or two hundred of them, have been able to collect a lot of money in a very short time - let's say $2m every two months. Huge money. The easiest and the safest investment for them is land," says Mr Shabban.
He says it is that investment which is largely responsible for forcing land prices up so rapidly.
But all this is a world away for most Gazans with the United Nations figures showing the average wage is just $15 a day.
"This is out of reach for 99% of Gazans. In Gaza you have thousands of families who can't find enough money to buy food to eat every day. Yet you have people who have millions of dollars that they don't know what to do with. It's an unreal situation."
Mr Shabban says Israel and Egypt's blockade has hurt ordinary people while allowing a few people with good government connections to flourish.
He says the surge in the value of land has highlighted the gap between the haves and the have-nots.
"This is why there are some people in Gaza who don't want the blockade to be fully lifted. This is why some people are happy when rockets are fired into Israel so the border will remain closed. Israeli is rewarding these people and punishing the majority."
And the problem is only going to get worse. In Jabalia, one of the poorest neighbourhoods in Gaza City, you can see kids everywhere.
Palestinians who seem to put a premium on education always seem to have them immaculately turned out.
But their smart little school uniforms contrast with the rubbish strewn streets on which they play.
Over half Gaza's rising population are children. In a recent report the United Nations said there will be half a million more people in this tiny strip of land by 2020.
Space will likely only get more precious.