Human Rights Watch says Syria using cluster bombs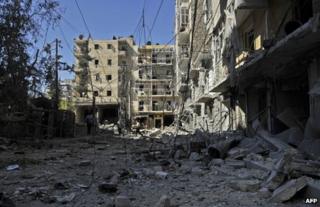 A leading human rights watchdog has accused the Syrian government of dropping cluster bombs on populated areas during its fight against rebels.
The New York-based Human Rights Watch said online video reports purporting to show evidence of such weapons being used had recently multiplied.
Cluster bombs are banned by 77 countries under a convention because of the threat they pose to civilians.
Syria has not signed up to the convention.
There was no immediate comment from Syrian government officials on the HRW accusation.
Fierce fighting has continued between the Syrian army and rebel fighters in the north-western town of Maarat al-Nuaman for control of a highway linking the capital Damascus to the second city, Aleppo.
Rebels captured the strategic town on Tuesday, hindering the army's ability to reinforce troops in Aleppo.
Syrian government forces are still holding two nearby bases, Wadi Daif and Hamdiyeh.
'Disregard'
HRW said many of the latest cluster bomb attacks had taken place on towns around the highway which runs through Maarat al-Nuaman.
Cluster bomb canisters and sub-munitions shown in online videos showed "damage and wear patterns produced by being mounted on and dropped from an aircraft", according to the watchdog.
It identified them as Russian-made RBK-250 series cluster bomb canisters with AO-1SCh fragmentation bomblets.
"Syria's disregard for its civilian population is all too evident in its air campaign, which now apparently includes dropping these deadly cluster bombs into populated areas," said Steve Goose, HRW's arms director.
"Cluster bombs have been comprehensively banned by most nations, and Syria should immediately stop all use of these indiscriminate weapons that continue to kill and maim for years."
The cluster bomb convention was signed in 2008 to ban the stockpiling, use and transfer of virtually all existing cluster bombs, as well as the clearing up of countries littered with unexploded munitions.
States which are not parties to the convention include Syria and Russia, but also the US and Turkey.
The UN says more than 18,000 people have been killed in the conflict in Syria with 170,000 fleeing the country and 2.5 million in need of aid within the country.
How a cluster bomb works
1. The cluster bomb, in this case a CBU-87, is dropped from a plane and can fly about nine miles before releasing its load of about 200 bomblets.
2. The canister starts to spin and opens at an altitude between 1,000m and 100m, spraying the bomblets across a wide area.
3. Each bomblet is the size of a drink can and contains hundreds of metal pieces. When it explodes, it can cause deadly injuries up to 25m away.