North Iraq gun and bomb attacks kill six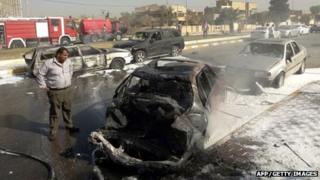 At least six people have been killed in a series of gun and bomb attacks targeting security forces in northern Iraq, officials have said.
Among the dead were three policemen and two members of a Sunni-dominated militia known as an Awakening Council.
Two of the policemen were shot at a checkpoint in Tuz Khurmatu, while nine people were hurt when a car bomb was detonated at an entrance to the town.
The third officer died when two car bombs exploded in the city of Kirkuk.
Fifteen others were also wounded in the attack, which happened near the provincial government's headquarters.
Brothers killed
In another round of violence, militants broke into the home of two brothers in the desert west of Samarra, a city about 113km (70 miles) north of the capital Baghdad.
The brothers, who were members of a local Awakening Council, were killed along with their father, police and medical officials said.
Awakening Councils began to be set up in 2006, when Sunni tribesmen turned against al-Qaeda and other extremist militants and started fighting alongside US and Iraqi government forces. Their members are frequently targeted by Sunni insurgents who see them as traitors.
Meanwhile, a shooting at an army checkpoint in the south of the Baghdad left three Iraqi soldiers wounded, an interior ministry official said.
On Sunday evening, two bombings targeted police in the cities of Baquba and Mosul, north of Baghdad, leaving one officer dead.