Syria conflict: Brahimi seeks Iran help to secure truce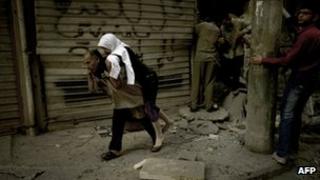 UN envoy Lakhdar Brahimi has appealed for Iranian help to implement a ceasefire in Syria over the upcoming Muslim holiday of Eid al-Adha.
Following a visit to Tehran, Mr Brahimi said such a ceasefire could "allow a political process to develop".
In Luxembourg, European Union foreign ministers backed Mr Brahimi's efforts and approved fresh sanctions on Syria.
They imposed travel bans and asset freezes on a further 28 Syrians and two Syrian firms.
Turkey says it is now housing more than 100,000 Syrian refugees in its camps, reaching the maximum number it says it is able to cope with.
Earlier, Turkey said it had searched an Armenian plane taking aid to Syria, which had landed en route to Aleppo, to check it was not carrying military equipment.
Last week, Turkey forced a Syrian plane to land, claiming that it was carrying Russian-made "munitions" for the Syrian army. Syria and Russia denied the plane was carrying anything illegal.
Inside Syria, the army has denied claims, made by Human Rights Watch on Sunday, that it has been using cluster bombs in its battle with the rebels.
An army statement, carried on state television, said the army "does not possess these kinds of weapons" and the allegations are "completely untrue".
Syrian TV has also reported that Syrian President Bashar al-Assad has ordered immediate repairs to the Umayyad Mosque in Aleppo, Syria's second city, which was reported to have been badly damaged in fighting between government forces and rebels over the weekend.
The mosque is the most important in the city and lies within the Unesco world heritage site. Unesco appealed last week for the protection of "one of the most beautiful mosques in the Muslim world".
Getting 'worse'
Mr Brahimi met top Iranian officials in Tehran during a regional tour, as he presses for a way to resolve the conflict in Syria.
In a statement at the end of his visit, the UN-Arab League envoy "reiterated the call by UN Secretary-General Ban Ki-moon for a ceasefire and a halt to the flow of arms to both sides".
He "underlined that the crisis in Syria was getting worse every day and stressed the urgent need to stop the bloodshed".
The Muslim holiday of Eid al-Adha is expected to start in about 10 days' time.
Mr Brahimi, who succeeded former UN secretary-general Kofi Annan as envoy to Syria, is now in Iraq. He visited Saudi Arabia and Turkey last week.
In a statement, the EU said Mr Brahimi had its "full support" and "stands ready to strengthen its cooperation with him".
Protests against the rule of Bashar al-Assad began in Syria in March last year.
The violence has gradually escalated. Activists say more than 30,000 people have been killed, while the UN estimates that at least 20,000 have died.
Hundreds of thousands have fled to neighbouring countries.
Turkey's disaster management agency said on Monday there were 100,363 Syrians at its camps on the border with Syria. Turkey had earlier said it would struggle to cope with more than 100,000 refugees.
Jordan has said it intends to set up a new camp at Marajeeb al-Fahood, east of the capital, Amman, for those fleeing the violence in Syria.
Officials say Jordan is home to at least 200,000 Syrian refugees, more than any other country in the region. More than 30,000 of these are in the UN-run Zataari camp, with many more hosted by families.