Egyptians on indefinite delays to football season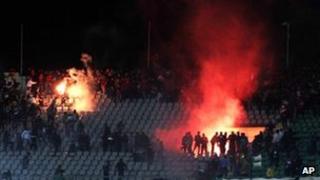 Egypt's football association has delayed indefinitely the start of the domestic season because of the February stadium riots that left 74 people dead.
The 2011-12 season came to an abrupt halt when supporters of Cairo club Al Ahly were killed in Port Said. Games were due to resume in September but were delayed because of protests from Al Ahly fans and victims' relatives.
Here, Egyptians reflect on the situation and what it means for the country.
Omar Kamel, video producer, Cairo
The decision to continue to suspend football is good news. It puts pressure on everybody to have a proper investigation into what happened in February.
It will affect ordinary people who care about football and the revenue of the football clubs, adding to pressure to resolve the situation.
I think most people will feel the same way - many of the young people who turn up to watch football were also involved in the revolution.
To almost everybody it seems the events in Port Said were an organised attack on the Al Ahly ultras for their role in the revolution.
It shows that we still have a problem with the security apparatus in Egypt to this day. It's ironic because the revolution began as a struggle against that oppressive security apparatus.
Tension will continue until the government actually cleans out the security apparatus.
A recent example is the protests outside the American embassy following the US-made film that mocked Islam.
After the first night of protests, many youths turned up just for a chance to take revenge against the local security forces guarding the embassy.
Hani Seddik, lawyer, Cairo
We cannot continue to suspend the football season while we wait for justice over the Port Said riots - as that process could take years. We can't wait until everyone is satisfied with that process.
I used to play for Al Ahly when I was a teenager. But I'm not happy with what supporters of Al Ahly are doing now, because it doesn't seem to be about football.
Egypt is like England or Brazil, people live and breathe football.
With the current economic situation in Egypt and all that has happened in the country, people need an outlet like football. People need to be able to take their children out and keep themselves busy. Sport, for any country, is very important.
What happened in Port Said was terrible, and I can just imagine how I would feel if my son had been there. But at the same time, life goes on.
The season should start as soon as possible so we can go back to normal life.
If we cannot start the domestic season again soon it will be bad for the image of the country - would a tourist want to come to a country that can't even put on football matches?