Shalit-prisoners exchange: One year on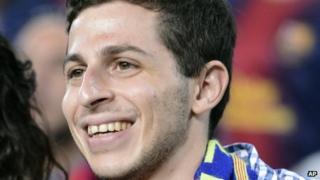 During the five years he was held by the Palestinian Islamist group Hamas, Israeli soldier Gilad Shalit must have struggled to fully grasp the depth of the emotional response that his captivity wrung from his fellow countrymen.
At the Free Gilad campaign tent erected by his parents on the pavement outside the prime minister's official residence, school children tied yellow ribbons around a tree and passers-by would sometimes break down in tears.
Tens of thousands joined a 12-day march from his home in northern Israel to Jerusalem in 2010 to focus attention on his plight.
The ordinariness of Gilad Shalit, a 19-year-old corporal on mandatory military service, when he was wounded and seized by militants in a cross-border raid in June 2006, meant that many Israelis could easily identify with him.
They felt he could have been their son, brother or friend. They could have been him.
The young soldier's face became known to the nation and parts of the wider world. It featured on badges, car stickers and posters as well as in news bulletins and documentaries.
On 18 October last year, there was massive media coverage when Sergeant-Major Shalit - as he had become following a promotion - was finally released, looking thin and pale.
He was exchanged for 1,027 Palestinian prisoners as part of an agreement between Hamas and Israel.
Public eye
While some Israeli pundits warned that the price that Israel was prepared to pay for a single soldier made it vulnerable to its enemies, surveys suggested the release deal was supported by most citizens.
Since returning home, Gilad Shalit has had to cope with the psychological effects of his ordeal at the same time as trying to come to terms with his fame.
Despite an initial ban on approaching him, Israeli news programmes were unable to resist showing his first bicycle ride after he returned home, as well as a message he recorded.
They later reported the French-Israeli's trip to Paris to visit President Nicholas Sarkozy and a meeting with New York Mayor Michael Bloomberg.
After shying away from the public spotlight, Mr Shalit has recently been seen more frequently: smiling at his 26th birthday party with celebrities in Tel Aviv; at a concert of the popular singer, Shlomo Artzi, who dedicated a song to him; at various sports events and on the set of the US television drama series, Homeland, when it shot an episode in Israel.
He has now put on a little weight and looks healthier than one year ago.
Drew maps
Although Mr Shalit was controversially interviewed by Nile TV before the Egyptian authorities handed him over to Israel, and has made a few further public comments, until now he had only given partial accounts of his life in captivity.
A new television documentary being aired this week by Israel's Channel 10 discloses more details.
In pre-released excerpts and a newspaper transcript, Mr Shalit explains how he passed the time, dealing with anxiety and tedium, sometimes drawing maps of his home town, Mitzpe Hilla "to remember, to imagine the places".
"I tried to be optimistic," he says, "I tried to focus on the little, good things I had there".
He says his captors fed him well, they played chess and dominoes and "hardly abused" him. He was allowed to watch Arabic news on TV and was later given a radio on which he could listen to Israeli news.
Sometimes he and his captors would watch films and televised sports events together.
Mr Shalit goes on to describe his feelings upon being taken out of hiding in Gaza and moved to Egypt's Rafah crossing last year, as he was being transferred to Israel.
"Suddenly, I saw dozens, hundreds of people in front of me after five years of seeing only a few, " he says.
"I was afraid of something going wrong at the last minute and as soon as I got out and went to Egypt, I felt a sense of relief."
Security
Mr Shalit officially left the Israeli military in April.
He is now a sports writer with the popular newspaper, Yediot Ahronot, working with a well-known Israeli television producer.
He has covered the NBA basketball finals in Miami, the European football championships in Kiev and Spain's El Clasico match between Real Madrid and Barcelona.
In his last weekly column he made passing reference to the tensions that his invitation to Barcelona caused with Palestinian supporters of the team, leading Hamas to demand a boycott.
"We were accompanied by a security team, which was necessary in light of the threats of pro-Palestinian groups to hold demonstrations," he remarked. "In practice, nothing happened," he added.
The event was just the latest reminder of Gilad Shalit's potential to grab attention wherever he goes.
The first captured Israeli soldier to be released alive in 26 years, he is destined to remain in the public eye: a reluctant celebrity.