Kuwait's emir warned at opposition protest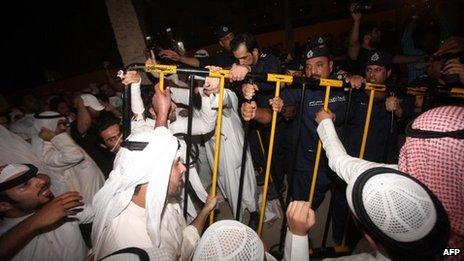 Several protesters were hurt and others detained when protesters clashed with security forces outside Kuwait's parliament building, reports say.
At least 5,000 people took part in the demonstration on Monday evening.
In an address that surprised observers, ex-MP Mussallam al-Barrak warned the emir he would not be allowed to "take Kuwait into the abyss of autocracy".
The opposition fears the government will try to alter legislation before upcoming parliamentary elections.
The emir, Sheikh Sabah Al Sabah, dissolved the National Assembly earlier this month after the emirate's highest court rejected a government appeal aimed at changing electoral boundaries.
The government said it wanted to safeguard the outcome of future polls; critics said it planned to alter the boundaries to its advantage.
On Monday, thousands of Kuwaitis defied a request by the authorities not to participate in the anti-government demonstration in Kuwait City.
Witnesses said at least five people, including the son of the prominent opposition figure Ahmed al-Saadoun, were detained when demonstrators clashed with security forces manning barriers outside the National Assembly building in Erada Square.
Several people were also reportedly hurt in the skirmishes.
Earlier, demonstrators listened to a speech by Mussallam al-Barrak which many observers said was striking in its criticism of the 83-year-old emir.
"We will not allow you, your highness, to take Kuwait into the abyss of autocracy," he warned. "We no longer fear your prisons and your riot batons."
"If your highness decides to change the election law by emiri decree, then you alone are responsible for complicating matters and you alone are responsible for resolving it."
His remarks drew repeated chants of "We will not allow you, we will not allow you" from the crowd.
The dispute began in June, when the Constitutional Court declared illegal February's elections, in which the Islamist-led opposition made significant gains. The court reinstated the previous parliament.
Last year, protesters stormed the parliament building when the government tried to prevent former Prime Minister Sheikh Nasser al-Mohammed al-Sabah facing questions about the alleged payment of bribes to pro-government MPs. Sheikh Nasser and his cabinet resigned the following month, triggering February's elections.
Opposition leaders have called on the emir to announce a date for the upcoming parliamentary elections. Under the constitution, they must be held within 60 days of the dissolution of the National Assembly.