Grave of Israeli general Moshe Dayan vandalised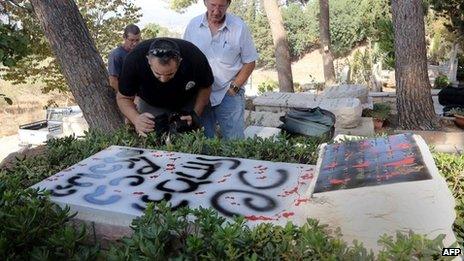 The grave of the former Israeli defence minister and military chief-of-staff, Gen Moshe Dayan, has been vandalised on the 31st anniversary of his death.
Graffiti spray-painted on the grave in the town of Nahalal read: "The minister of failure, in the name of the fallen."
Police are investigating the incident, which the defence ministry condemned.
Dayan served as defence minister during the 1973 war between Israel and neighbouring Arab states, in which more than 2,500 Israeli soldiers died.
He was also defence minister during the Six-Day War in 1967 and military chief-of-staff during the 1956 Sinai campaign.
Dayan's daughter, Yael, told Israeli Army Radio that the vandalism of his grave was "of no consequence" and blamed "a few loners".
"This always happens in October, the anniversary of the Yom Kippur War, and my father's death. It gives rise to the uglier side of things."
"I hope that they find those who did it, and it really is just the act of hooligans, or uncontrollable sorrow, and I hope that they get on with their day," she added.
"I really regret this form of expression, desecration of graves, and what I heard was written there."
In the 1973 war, Egypt launched an audacious attack across the Suez Canal on Yom Kippur, the holiest day of the Jewish year, in an effort to recapture the Sinai peninsula. Israeli forces were at their least prepared.
The Egyptians gained a bridgehead across the canal but were eventually outflanked when the Israelis crossed to the west of the canal. Egypt accepted a ceasefire.
In the meantime, the Israelis had counter-attacked against the Syrians who had advanced deep into the Golan Heights and forced them back, approaching Damascus itself.
Although Israel had won, it had been taken by surprise and was shocked. Its chief of staff and head of intelligence resigned.
Eventually, both Egypt and Israel decided that they had a basis for making peace.