Israel forced to release study on Gaza blockade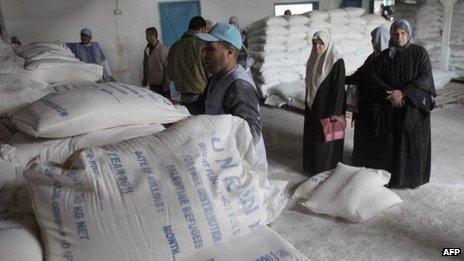 An Israeli court has forced the release of government research detailing the number of calories Palestinians in Gaza need to consume to avoid malnutrition.
The study was commissioned after Israel tightened its blockade of the territory after Hamas came to power in June 2007.
The UN said if the research reflected a policy intended to cap food imports, it went against humanitarian principles.
But the Israeli government said the study was only ever a draft and was never used to determine policy.
However, an Israeli official has conceded to the BBC that the attitude when compiling a catalogue of allowed items into Gaza - cinnamon was allowed, for example, while coriander was not - may not have been rational.
"We never understood why the Ministry of Defence actually forbade coriander to enter Gaza," Israeli Foreign Ministry Yigal Palmor told the BBC's Newshour programme.
"It did reflect some kind of petty interference with items that seemed of little note."
'Daily humanitarian portion'
The Israeli human rights group Gisha, which campaigns against Israel's Gaza blockade, fought a long legal battle to get the Israeli ministry of defence to release this document.
It breaks foods down into various categories including meat, dairy, vegetables and fruit.
Gisha says it explains the unusual restrictions which allowed some products such as cinnamon in, while others such as coriander were forbidden.
The "red lines" documents concluded that Israel needed to allow 106 lorryloads of supplies into Gaza every day to allow for the "daily humanitarian portion", which included basic food, medicine, medical equipment, hygiene products and agricultural inputs.
But Gisha says that during that time an average of only 67 lorryloads a day were allowed into Gaza.
This, the group says, compared to about 400 lorryloads which entered Gaza each day before the blockade was tightened in June 2007.
Before 2010, millions of dollars worth of food products were being smuggled into Gaza through tunnels every year.
Gisha says the research contradicts Israel's assertions that the blockade is needed for security reasons.
"How can Israel claim that it is not responsible for civilian life in Gaza when it controls even the type and quantity of food that Palestinian residents of Gaza are permitted to consume?" asked Sari Bashi, Gisha's executive director, in a statement.
"Israel's control over movement creates an obligation to allow free passage of civilians and civilian goods, subject only to security checks - an obligation that remains unfulfilled today."
Robert Turner, director of operations in Gaza for the UN Relief and Works Agency (Unrwa) for Palestine refugees, said: "If this reflects an authentic policy intended to cap food imports, this 'red lines' document is contrary to humanitarian principles."
"The facts on the ground indicate that food imports consistently fell below the red lines."
"We recognise that Israel has legitimate security concerns but we have said consistently that the blockade is collective punishment of the population. It's illegal under international law and we think it's counterproductive," he added.
Israeli government officials now acknowledge the food restrictions were partly intended to put pressure on Hamas by making the lives of people in Gaza difficult, says the BBC's Jon Donnison in Gaza City.
In 2006, Israeli government adviser Dov Weisglass was widely quoted as having said: "The idea is to put the Palestinians on a diet, but not to make them die of hunger."
The Israeli defence ministry said the "red lines" study was only ever a draft but was aimed at ensuring there was not a major health crisis.
"The quantification was not done in order to arrive at a minimum threshold or restrict the quantities, but... to ensure that there was no shortage," an official at the Co-ordinator of Government Activities in the Territories (Cogat) told the Haaretz newspaper on Tuesday.
Israel, as well as the United States and the European Union, regards Hamas as a terrorist organisation.
Related Internet Links
The BBC is not responsible for the content of external sites.