Israeli threat to Bedouin villages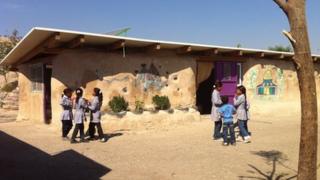 Ten-year-old Manar is a good student. Like many girls of her age she loves going to school, the boys perhaps less so.
But Manar's school, built from old tyres held together with mud and serving the desert community of Khan al-Ahmar some 10km (6 miles) east of Jerusalem, is precarious in more ways than one.
All of the students here are Bedouin - Arab nomads who fled from their traditional homelands in the Negev desert to this dusty valley in the West Bank after Israel's war of independence in 1948.
Now Israel, which has occupied the area since 1967, wants them to move again - and to demolish their school.
Eid Abu Hamis is the nominal head of the community.
An intelligent man who speaks both Arabic and Hebrew fluently, Eid paid to put himself through university.
But, says the qualified accountant, it is increasingly difficult for Bedouin to succeed in Israeli society because of ever-tighter restrictions on their movements.
Like the rest of his community, Mr Abu Hamis lives in what can only be described as sparse, basic conditions.
Traditional tents may have given way to structures made from wood and plastic, but without running water, mains electricity or sewage the Bedouin way of life is not to everyone's taste or comfort.
There are, of course, lots of grazing animals in pens and wandering the dusty slopes around the encampment.
But Mr Abu Hamis says they only now rear about one tenth of the goats and camels they used to because they no longer have unrestricted access to their traditional grazing lands.
They are also no longer able to sell their produce in the main markets - Jerusalem's Old City in particular.
'Political ploy'
With his fair share of worries, one thing preoccupies the village headman more than anything else - the demolition order hanging over the school.
"The school has transformed this community," Mr Abu Hamis tells me as we sit under the ample shade of a fig tree in an otherwise barren landscape.
"More than half the pupils at the school are girls. That was almost unheard of for Bedouin, but if the school is closed [as the Israeli military order demands] the girls will drop out of education."
Sitting pretty on the hilltops above the valley, overlooking the school, are several well-maintained and neat Jewish settlements.
Settlements in the occupied territories are illegal under international law, though Israel disputes this. Israel says this is (Israeli) state land and it has plans to develop the settlements. The Bedouin, they say, have no legal right to be here, so they must move on.
Aryeh Eldad is a member of the Israeli Parliament, the Knesset, and is a vocal proponent of Israel's right to own and populate all of historic Palestine, including the areas where the Bedouin have lived and reared their animals for hundreds of years.
Looking out over the Jordan Valley, from the vantage point of his veranda in Kfar Adumim, Mr Eldad acknowledges that Israel has some sort of responsibility for the thousands of Bedouin living on territory under its control, but says they cannot stay where they are.
"We know what they're up to," says the man who was once one of Israel's most celebrated surgeons, but who now dedicates much of his time to exercising the rights of Israeli settlers over Judea and Samaria - Israel's term for the West Bank.
"The school is there for purely political reasons so they [the Bedouin] can have a presence here. We know this is true because we settlers used to use the same tactics."
A spokesman for the Co-ordinator of Government Activities in the Territories Unit (Cogat), an arm of the Israeli military responsible for implementing government policy in the West Bank, told the BBC: "The school was built illegally and they had no permits for construction. So we issued stop orders and then demolition orders.
"The state is still waiting to find an appropriate place for relocation, but it will be demolished eventually."
'Breach of law'
With movement and access to land increasingly restricted, the Bedouin say their way of life is under threat. In what has become a struggle for basic civil rights, Israel plans to relocate as many as 30,000 Bedouin from several different communities.
Supporters of the Bedouin campaign to avoid relocation say that an even clearer example of what they call discrimination can be found inside the boundaries of Israel "proper".
Umm al-Hiran lies in a wadi, or small valley, not far from the large town of Beersheba at the top end of the Negev desert. Some 100 Bedouin families live here.
They are full Israeli citizens and were moved here in the 1950s by the Israeli government from their ancestral lands.
Now the authorities want to evict them, destroy their homes and build a new community here, but one for religious Jews.
Using a legal argument that has been upheld in the courts, Israel says this village, and many others, are unrecognised and therefore illegal, but campaigners argue the forced relocation of these communities would contravene international law.
"You can call it apartheid, you can call it racism," says Suhad Bishara, a human rights lawyer who is fighting the plan to evict the residents of Uma al Hiran in the courts.
"The state wouldn't dare to say to anyone in Tel Aviv that we want to remove you put someone else in your place. It's like the Wild West, human rights are suspended and the rule of law is suspended."
Back in the dusty yard of her home just below the school built from tyres and mud in Khan al Amar, Manar is concentrating hard on her homework. She tells me she has a dream, to one day become a teacher.
Although the Israeli High Court has rejected a demand from the Jewish settlers that the Bedouin village and the school be destroyed immediately, a military demolition order still hangs over the school.
Manar's father admits, if the village school is demolished, his daughter's dream might never be realised.