Many students killed in bus crash in south-west Iran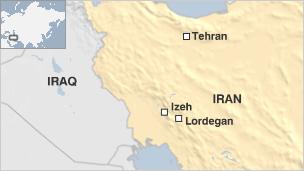 At least 26 students have been killed and a further 12 injured in a bus crash in south-western Iran, the country's media report.
The driver lost control while driving the bus at high speed in wet weather and it overturned, a police official was quoted as saying by state radio.
It was travelling between Izeh and Lordegan, about 500km (310 miles) south-west of the capital Tehran.
Iran has one of the worst road safety records in the world.
Around 20,000 people die in traffic accidents every year, with the high death toll blamed on speeding, unsafe vehicles, disregard of traffic laws and inadequate emergency services.
The number of people who survived the crash was put variously at 12 and 14.
The injured were being treated in nearby hospitals, the Fars news agency reports.