Estelle intercepted: Israel navy stops Gaza-bound boat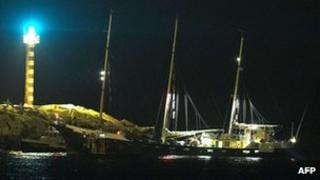 The Israeli navy has intercepted a boat of pro-Palestinian activists trying to break the blockade of the Gaza Strip.
The Finnish-flagged Estelle left Naples on 7 October with some 30 people of eight different nationalities aboard.
The boat was boarded 30 nautical miles off the coast of Gaza, activists said, before being taken to the Israeli port of Ashdod.
The Israeli military said the ship would be searched and the activists would be questioned then deported.
It said there was no resistance from the activists and the Israeli military did not use force.
Israel tightened the blockade after the Islamist group Hamas came to power in the coastal sliver in 2007.
'Protect our borders'
The Estelle, which activists say is carrying cement, basketballs, musical instruments, and 30 doves, is the latest vessel to try and break the Gaza blockade.
Among those on board are politicians from several European countries and Israeli activists.
Activist spokeswoman Victoria Strand said Israel had carried out a "demonstration of ruthlessness", whilst a spokesman for Hamas called it an act of "pircacy".
Israeli Prime Minister Benjamin Netanyahu said the activists were trying "to provoke and slander Israel's name".
"If human rights were really important to these activists they would have sailed for Syria. We will continue to protect our borders," he said.
It comes two years after nine Turkish activists were killed in an Israeli navy raid on the Mavi Marmara, one of a flotilla of ships attempting to break the blockade.
Palestinians say Israel's blockade of the Gaza Strip amounts to collective punishment to residents of the densely populated strip of land along the Mediterranean coast.
Israel says the blockade aims to stop the supply of arms or other items for military use, and to put pressure on the Hamas administration.
International pressure following the deadly 2010 interception led Israel to ease its blockade, allowing more food products into the strip.
The movement of people and construction materials - such as cement and steel cables - is still heavily restricted.
The importing of all weapons and military materials is banned, along with dual-use materials such as fertilisers and certain chemicals.
Fishermen may only operate in a strip of water up to three nautical miles from the shore.