Jordan 'al-Qaeda plot uncovered'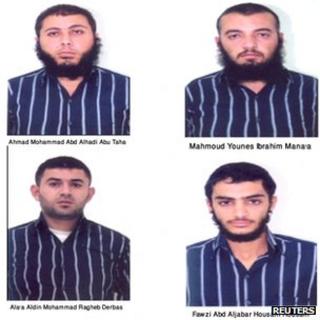 The authorities in Jordan say they have arrested 11 militants alleged to have planned attacks on Western diplomats and shopping centres in the capital.
Government spokesman Samih Maayta said the suspects were arrested in the past few days and were in police custody.
Mr Maayta said the men had brought in weapons from neighbouring Syria, and al-Qaeda operatives in Iraq had helped them manufacture home-made explosives.
The plot was said to have been in preparation since June.
Jordanian intelligence were monitoring the plotters, including their experiments with explosives, a senior official told the BBC's Frank Gardner.
The official told the BBC "this was an al-Qaeda plot timed for the anniversary of the 9 November attacks on Amman in 2005".
The plotters "had planned to bring TNT explosives and mortar shells from Syria", state news agency Petra said.
The targets included "shopping centres, residential areas, diplomats and foreign nationals".
Jordan border Syria and is home to at least 200,000 Syrians who have fled the conflict, more than any other country in the region.
Elections ahead
The aim of the attack was to "create a highly destructive explosive that would cause the highest number of casualties and extensive physical damage", Petra said.
News of the alleged plot came as the country prepares to vote for a new parliament in January.
Jordan is a key ally of the US in the region.
It has often arrested terror suspects, analysts say.
It has its own militant Salafist movement - ultra-conservatives who want Islamic Sharia law to be implemented in Jordan as a prelude to an Islamic state.
Some members have been convicted of trying to recruit people to fight against US-led troops in Iraq and Afghanistan, plotting attacks against US and Israeli embassies in Amman, or planning to kill foreign tourists.
In 2005, a suicide bombing of three hotels in Amman killed 60 people.