Press sees Syrian hand behind Beirut blast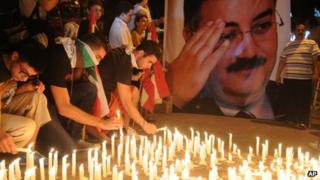 Newspapers in the Middle East have been expressing concerns about the car bomb in Beirut which killed a senior intelligence official, Gen Wissam al-Hassan, on Friday.
A Lebanese paper avoids speculation but advocates accepting another episode in a long history of violence.
Most regional papers, however, implicate Syria's government and fear other countries will be dragged into conflict.
A contrary note is sounded by Iranian newspapers, one of which says that foreign powers are blaming Syria as a way to justify UN intervention there.
Busra al-Sayigh in Lebanon's leftist, nationalist, pro-Syrian Al-Safir
Wissam al-Hassan was not the first to be assassinated and it is hard to imagine that he will be the last... The only way life can return to normal in Lebanon is to go by the slogan 'let bygones be bygones'.
Zvi Barel in Israel's left-of-centre, independent Haaretz
[Hassan's] assassination is far from being only a personal settlement of accounts on the part of the Syrian regime or Hezbollah, with one considered a dangerous opponent.
It has raised to the surface in a threatening way the battle raging in Lebanon for months between supporters and detractors of the Syrian regime, and between extremist Sunni movements acting in north Lebanon, mainly in Tripoli, and parts of the Shia population that fear for the fate of the Alawis in Syria.
Mohammad Jafarian in Iran's hardline Qods
It is doubtful that the main target of the blast was the Head of the Intelligence Branch of Lebanon's Internal Security Forces, Brigadier Wissam al-Hassan... Undoubtedly, Damascus is too caught up with its own domestic issues to have orchestrated such an act... Accusations are being made against Damascus and the Lebanese environment is being stirred up against [Syrian President] Assad.
Editorial in Iran's conservative Hemayat
Syria's enemies have been pointing an accusing finger at the Syrian President, Bashar al-Assad, from the very beginning so that the UN will take action against Syria. They have tried to portray Syria as a threat to international security and ultimately prepare the grounds for renewed intervention.
Hazim Mubayidin in Jordan's pro-government Al-Ray
It is now paramount for political forces in the country to prevent the fire from spreading to the rest of Lebanon... The threat of Damascus transmitting sparks of what is happening in Syria to all the countries around it cannot be ignored.
Abdallah Abu Al-Samah in Saudi Arabia's centrist Ukaz
The bombing... has disturbed everyone but it was bound to happen because of the events in Syria and the intention of its bloody regime to make such events spill over into the rest of the region to ease the pressure on itself and to desperately try to find an exit out of its own crisis.
Khamis al-Tubi in Oman's independent, pro-government Al-Watan
Can one say that Lebanon has entered the countdown towards sedition and is sliding into a civil war again after the terrorist attack that led to the assassination of Wissam al-Hassan?... This seems to be the case. Dragging Lebanon back into sectarian strife has always been a goal and will remain a goal.
BBC Monitoring reports and analyses news from TV, radio, web and print media around the world. For more reports from BBC Monitoring, click here