Jordanian soldier 'killed by militants' at Syria border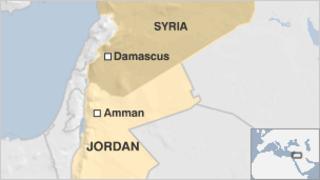 Jordan says one of its soldiers has been killed by militants attempting to cross the country's border with Syria.
Information Minister Samih al-Maaytah said the soldier was the first member of the military to die on the border since the Syrian uprising began.
A dozen gunmen were later arrested - officials have not said whether they were Jordanian or foreign fighters.
Several hundred foreign militants are believed to have joined the anti-government forces in Syria.
Jordan's banned ultra-conservative Salafist movement has sent a number of fighters to the country.
Mr Maaytah named the soldier as 25-year-old corporal Mohammed Abdullah al-Manasir, and said he was "martyred during a clash with an armed group that was trying to enter Syria".
A military official told the AFP news agency that he had been killed by a group of eight militants, who were later arrested "in possession of Kalashnikovs and automatic weapons".
A second clash broke out shortly after, following which another five suspected militants were detained.
On Sunday, Jordan said it had arrested 11 militants alleged to have planned attacks on Western diplomats and shopping centres in the capital, Amman, using weapons brought in from Syria.
The arrests and border clashes - as well as unrest in Lebanon over the weekend - have fuelled concerns that the 19-month Syrian conflict could spill over into neighbouring countries.
Earlier this month, the US confirmed it had a military task force in Jordan to prepare for such an eventuality, as well as to help it cope with tens of thousands of refugees fleeing Syria.