Syria peacekeeping contingency plan mulled at UN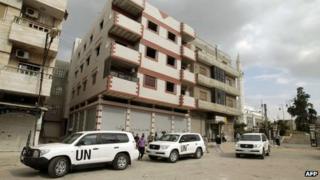 The UN is making contingency plans for a peacekeeping force in Syria in the event of a ceasefire there.
The UN has called for a truce for the festival of Eid al-Adha, which begins on Friday.
A UN monitoring mission operated in Syria earlier year, as part of a failed UN-Arab League peace plan, but withdrew after it became too dangerous.
The UN Security Council, which is deeply divided on Syria, would have to approve any peacekeeping force.
Western and Arab countries have pushed for UN action on Syria, but their resolutions have been vetoed by Russia and China.
The head of UN peacekeeping, Herve Ladsous, said his department was considering options in the event of a ceasefire or political deal in Syria.
"I would confirm that, of course, we are giving a lot of thought to what would happen if and when a political solution or at least a ceasefire would emerge," he told reporters at the UN.
It was too early to say how many peacekeepers might be deployed, Mr Ladsous cautioned.
However, the BBC's Barbara Plett at the UN says so far the prospects of achieving even a temporary truce for the forthcoming Muslim holiday appear slim.
Our correspondent says neither the rebels nor the army have shown any sign they are prepared to stop fighting, while members of the armed opposition have said they doubt an informal ceasefire could be implemented.
In April, a UN observer mission deployed to Syria to monitor a shaky ceasefire, part of the peace plan put forward by international envoy Kofi Annan.
However, the monitors' presence failed to halt the violence. They were prevented from travelling freely and were fired on in some locations.
They suspended patrols in June. Two months later, the UN Security Council decided not to extend their mandate.
Mr Annan resigned in August and was replaced by veteran envoy Lakhdar Brahimi.
At the time he took up the post, Mr Brahimi warned that it might be "nearly impossible" for him to succeed in ending the violence in Syria.