Lebanon's Hezbollah drawn into Syria conflict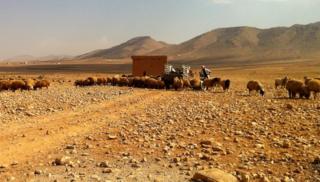 Southern Lebanon is very much Hezbollah country.
The highly-organised Shia organisation garners much of its domestic support from the traditional villages in this hilly region.
It runs schools, hospitals and local politics in these parts, not to mention being famed for its military prowess.
Large posters of Hezbollah fighters killed in the 2006 conflict with Israel are scattered around the town of Nabatiya.
There are also plenty of images of Bashar al-Assad, president of neighbouring Syria and a key ally of Hezbollah in the complicated, often sectarian world of Middle Eastern politics.
Helping refugees
While reaffirming his support and backing for the government in Damascus, Hezbollah's leader Hassan Nasrallah recently denied reports that his organisation's members were fighting alongside the Syrian military.
What Hezbollah is willing to confirm is the amount of help it is giving to refugees from the fighting.
On a short tour of the town we met two families who had been given considerable support by Hezbollah since making the arduous journey from Syria.
One young mother from Homs had given birth - by caesarean section - just days after arriving in Nabatiya. The cost of the operation, post-natal medical care and food for the child had all been taken care of by the group.
The flat the new family was living in was sparse and short on furniture, but it was adequate and, again, paid for by Hezbollah.
Next we met Manel, already at the age of 23, mother to three young boys.
She too is living with her extended family in a flat provided by Hezbollah. Two weeks ago they had to flee their homes from a village near Aleppo.
'No questions'
"We had to leave because the terrorists, the rebels, made it impossible to move," Manel said, clearly angered at the family's predicament.
"You can't get in or out of the village because you could be killed or kidnapped for ransom."
Hezbollah minders insisted that they did not ever ask the people they had helped about their political affiliations in Syria or about their religion.
They said absolutely no distinction was made between refugees and that they were never asked. That might be the case in southern Lebanon and we saw no evidence there to contradict that stance.
Elsewhere, however, it is a different story.
Lebanon's Bekaa Valley is the real launching pad for those who have a vested interest in the progress, or otherwise, of the uprising in Syria.
Almost all of Syria's internal divisions - Sunni, Shia, Alawite and Christian - are replicated in the villages of the Bekaa.
In some of the region's predominantly Shia villages there have been funerals for Hezbollah fighters, killed it is thought while fighting on the government side inside Syria.
There were hundreds of mourners at the recent burial of Ali Hussein Nassif, a senior commander who Hezbollah would only say had died while "performing his jihadist duty".
Such evidence, and undoubtedly other material, has prompted the United States to accuse Hezbollah of providing training, advice, and logistical support to the Syrian military.
'Attacked'
Hezbollah's hierarchy, including Hassan Nasrallah, emphatically denies those charges, although there is now simply too much evidence for him to deny any involvement at all.
"The Lebanese in these border villages [inside Syria] are fighting all by themselves and no-one is fighting on their behalf," he said in a recently televised speech.
This the first time that Hezbollah has acknowledged that some of its members may have been in Syria, albeit without any formal support. In truth, there is no real border in these areas, and that is part of the conundrum.
There are Lebanese communities on what is now regarded as the Syrian side, and thousands of Syrians live in "border" villages that are today formally within Lebanon but were not always so.
Soudayf Hamada is a spokesperson for the Committee of Lebanese in Syria. In the Shia villages at the northern end of the Bekaa, he speaks for Lebanese citizens on the other side of the valley - land that is nowadays inside Syria.
He defends the role of individuals to protect their communities and their lands.
"Many of our villages in Syria have been attacked by the rebels," Mr Soudayf says as he points to the villages in question, no more than a 1km (0.6 miles) away.
"People have been killed. Hezbollah can't stop its supporters defending their own land."
Spilling over
The long, open border is hostile country in more ways than one.
Through these hills, known best by Bedouin herders and smugglers, Hezbollah is accused of ferrying men and weapons into Syria.
Sunni opponents of the Syrian government, including Sheikh Nabil Ruhayem, accuse Hezbollah of playing a dangerous game.
To meet him we drove to the northern Lebanese city of Tripoli - where there have already been deadly clashes between pro- and anti-Assad factions.
"Hezbollah is clearly interfering militarily in Syria - supporting the Assad regime. And that will definitely result in the crisis spilling over here into Lebanon," says Sheikh Ruhayem.
In truth, the conflict has already arrived in Lebanon. Last week's car bomb that killed a senior Lebanese security official, Wissam al-Hassan, has been widely blamed on the Syrian government.
While Hezbollah condemned the attack and denied it was carrying out Damascus's orders, it is one of several groups being drawn inexorably into the conflict because, like many others, it has a lot riding on the outcome.