EU MEPs cancel Iran visit over rights activists contact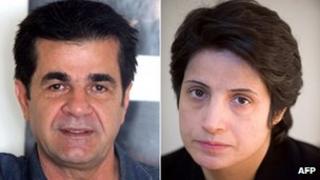 A visit to Iran by a European Parliament delegation has been called off after Tehran refused to let them visit two jailed activists recently awarded an EU human rights prize.
Lawyer Nasrin Sotoudeh and filmmaker Jafar Panahi were named joint winners of the Sakharov prize on Friday.
The five EU politicians had been due to arrive on Saturday and wanted to present the award to the activists.
But Iranian media said Tehran could not accept that as a pre-condition.
Hossein Sheikholeslam, an adviser to Iran's parliamentary speaker, was quoted in state media as saying that if the delegation wished to visit under "the initially agreed conditions and agenda" then the government had "no objection". It is not clear what that agenda included.
But the European Parliament delegation leader decided to cancel the visit after receiving a call from the Iranian ambassador to the EU who "said that 'at such short notice' it was impossible to guarantee that the MEPs could personally deliver invitation letters to the Sakharov prize laureates".
EP President Martin Schulz said: "I deeply regret that permission to meet the Sakharov laureates was withheld. The European Parliament is nevertheless determined to continue its support for and involvement with the Iranian civil society."
Nasrin Sotoudeh is serving a six-year jail term at the notorious Evin prison for "acting against the national security" and "propaganda against the regime". She is currently in solitary confinement
She had defended opposition activists following the disputed June 2009 presidential elections, as well as women and young people.
Jafar Panahi, 52, is well known for his films on life in Iran, but in 2010 he was put under house arrest and banned from filmmaking for 20 years on similar charges.
The Sakharov Prize is awarded annually by the EU for dedication to the defence of human rights and freedom of thought.
It was established in December 1988 and is named after Soviet scientist and dissident Andrei Sakharov. Winners get a 50,000 euro ($65,000) prize.
Mr Schulz has described the decision to award the prize to the two Iranians as a unanimous one.