Gunmen kill three of Egypt's security forces in Sinai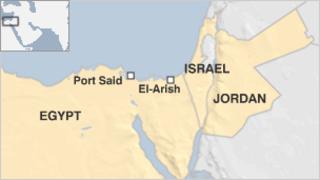 Three members of Egypt's security forces have been shot dead by gunmen in north Sinai peninsula, officials say.
A fourth was wounded in an attack on their car in the suburbs of El Arish.
Egypt launched an offensive against militants in Sinai following the killing of 16 policemen on the Egyptian-Israeli border in August.
Security in the area has deteriorated since the fall of Hosni Mubarak in February 2011, with Islamists appearing to gain a foothold, analysts say.
"Armed men who might belong to a jihadist group attacked a police vehicle and fired on its passengers before fleeing," a security source was quoted as saying.
Two policemen and a soldier were killed and another police officer was wounded, Egypt's interior ministry said.
Security forces threw a cordon around the city in a bid to capture the gunmen, the AFP news agency reports.
Troop build-up
Egypt launched "Operation Eagle" in early August, sending thousands of troops backed by tanks and heavy equipment into Sinai.
They were responding to the killing of 16 policemen in a raid on their base near the Rafah crossing with Gaza Strip, not far from El Arish.
It was the deadliest and most brazen attack against Egyptian troops in the Sinai region for decades.
After killing the soldiers, the militants crossed the border with Israel in an apparent attempt to carry out another attack. However, they were killed in Israeli air strikes.
The build-up of Egyptian troops and heavy weapons in Sinai has caused concern in Israel.
Since 1982, when Israeli troops withdrew, Sinai has remained under a special security regime mandated by the peace treaty the two countries signed in 1979, which restricts Egypt's freedom of military action.
Egyptian President Mohammed Mursi has stressed that there is no cause for concern, maintaining that his country is committed to all international treaties.