Palestinians hampered by obstacles to economic growth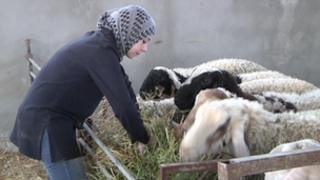 Aya Mtalat has great ambitions. Only in her mid-20s, she studied sociology at university in Nablus but is now trying to make a living through sheep farming.
This isn't an inherited family business; her father is a taxi driver. Aya set up the farm herself and manages it with the help of her sisters and father.
She has about 40 Merino sheep, which she rears on a totally natural diet. This makes their meat more lean, she says.
A kilo of lamb typically costs $18 (£11), and Aya has more customers wanting her sheep than she can manage to provide for.
It is a labour of love as much as anything else.
Talking to me in the lambing shed, Aya caresses and soothes her animals: "I give each of them a name and I know every single one of them... I cannot bring myself to eat meat!"
She smiles wistfully, the irony of her words is not lost on her, for after tending them lovingly, Aya's prize sheep are sold at market and submitted to their inevitable slaughter.
Aya Mtalat is one of a number of young innovators picked out by the Palestinian Authority's (PA) youth ministry to be considered for financial support and mentoring.
It is a recognition that something must be done to curb the rise of youth unemployment, and an acknowledgement that Palestinians cannot be dependent on international aid, which has fallen dramatically.
Foreign aid accounted for a fifth of GDP on the West Bank and Gaza in 2008. Last year it was down to 10% of GDP.
The Palestinians face a budget shortfall of nearly half a billion dollars. The PA, which runs the West Bank, is finding it hard to plug the hole in the fall in donations, mostly from the Gulf.
So could Palestinians themselves be doing more to boost their own economy?
For the past three years there has been fairly robust growth in the Palestinian territories, but now it has slowed and unemployment has risen to more than 30%.
Two-thirds of Palestinians are under 30 and this age group has been particularly hard-hit by unemployment.
There was widespread rioting in the Palestinian territories at the end of the summer over the cost of living.
Aya Mtalat has been recognised by the PA for her enterprise but says she would like more investment for her farm. The PA allocates less than 1% of its budget to agriculture, compared to 30% on its security forces.
Limited options
Suad Tahboub from Hebron has also been recognised for her entrepreneurial flair. She trained and works as a civil engineer and she she has set up an fashion design business using Palestinian embroidery.
"I use traditional needlework and embroidery techniques found in Palestinian clothing but I apply them to clothes better suited to a modern workplace," she says.
She hopes to provide employment for women in the villages outside Hebron and is in the process of setting up a website to sell her products online.
So Palestinians are doing something to help themselves, but there are limits to what they can achieve.
Suad is keen to find backers, but in reality private investment - for small, medium and big enterprises - is hard to come by.
Ziad Anabtawi, CEO and chairman of the Anabtawi Group of companies for food and agricultural products, told me that Palestinian enterprise is stifled by the Israeli occupation.
Ziad's companies generate around $50m in turnover every year, making him one of the leading members of the Palestinian business community.
Educated in the US, he returned after graduation to lead the business his father set up decades ago.
Today, his olive oil is consumed locally and also sold abroad. But he told me that Palestinian businesses are constrained by the Israeli occupation, which controls 60% of the West Bank and more than 90% of water resources.
"How can I be in control of my own business and export strategy, when I face restrictions on access to ports, border crossings, my goods are turned away at checkpoints and we don't have the same access to water that Israeli farms do?
"The olive business provides a livelihood for 100,000 Palestinian families, we would like to expand but we face so many constraints," he says.
A report by Amnesty International in 2009 said Palestinians used on average 70 litres of water a day, while Israelis and Jewish settlers used 300 litres of water a day. Israel said the report was flawed and that Palestinians have access to more water than required under peace accords.
According to Ziad Anabtawi, such anomalies would explain why in 2010, Palestinians bought $72m of fruit and vegetables from Israel and only sent $3m of their own produce the other way.
So whilst there is evidence that Palestinians are trying to boost their own economic fortunes, one clear message is: there are limits to what they can achieve given both the shortcomings of their own administration and the lack of a political settlement with Israel.
In the recent riots, the anger was directed mostly at their own politicians rather than at Israel.
But Palestinians know that Palestinian petrol prices went up because Israeli petrol prices went up and there are limits to what their representatives can achieve.