Israel court jails Palestinian activist Bassem Tamimi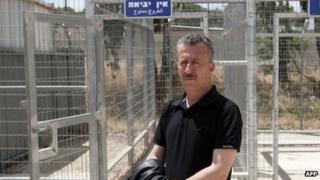 An Israeli military court has sentenced Palestinian activist Bassem Tamimi to four months in prison for his part in a protest last month, reports say.
Mr Tamimi, who accepted a plea bargain, was also fined $1,280 (£800) and given a three-year suspended sentence.
He was charged earlier this month with assaulting a police officer, taking part in an unlicensed demonstration and activity against the public order.
Mr Tamimi was arrested during a protest near a settlement in the West Bank.
Amnesty International had demanded his immediate and unconditional release, saying he was the victim of a "campaign of harassment, intimidation and arbitrary detention" by the Israeli authorities.
It said he had been held solely for peacefully expressing his rights to freedom of expression of assembly when he attended a non-violent protest on 24 October at an Israeli-owned supermarket near Shaar Benjamin against the encroachment of settlers onto Palestinian land.
Those taking part waved Palestinian flags and banners in English and Arabic reading "Boycott occupation and its products".
'Brutal arrest'
Amnesty cited witness and media reports as saying that as the protesters left the supermarket they were beaten by Israeli security forces personnel, who also fired stun grenades.
Mr Tamimi's wife Nariman was quoted as saying: "The police were brutal during the arrest. They threw Bassem on the ground and pressed him down while putting the cuffs on his hands. Anyone who tried to approach them was beaten up. The police seemed scared and nervous. They wanted to make arrests fast."
The activist was later charged with assaulting a police officer, participation in an unlicensed demonstration, and activity against the public order. It is not clear to which charges he pleaded guilty.
Mr Tamimi was released from an Israeli prison in May after 13 months in custody awaiting trial for his role in organising weekly protests since 2009 in the Palestinian village of Nabi Saleh against land seizures by settlers.
He was convicted of urging young people to throw stones and taking part in illegal gatherings, and sentenced to 30 months in prison, but then freed because of time served. The remaining 17 months were suspended for five years by the judge, who warned Mr Tamimi that they would be activated if he took part in any "public disorder".
About 500,000 Jews live in more than 100 settlements built since the occupation of the West Bank and East Jerusalem. The settlements are considered illegal under international law, though Israel disputes this.
On Monday evening, Israel's housing ministry announced that it was inviting bids from contractors to build more than 1,285 new homes in the East Jerusalem settlements of Ramot and Pisgat Zeev, and 72 in the West Bank settlement of Ariel.
Israeli officials told the Associated Press that the timing of the start of the tender process was intended to signal to the Palestinians that they should consider the possible consequences of asking the UN General Assembly later this month to grant them "non-member observer state" status.
Senior Palestinian official Saeb Erekat condemned the move and called on the US to pressure Israel to halt settlement construction, something President Mahmoud Abbas has demanded before restarting peace talks.