Profile: Syrian dissident Riad Seif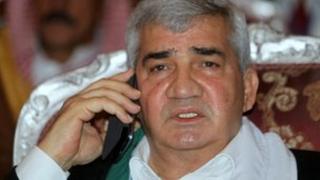 Veteran dissident Riad Seif is a widely respected figure among Syria's opposition groups, known for more than a decade of his activism against President Bashar al-Assad.
Mr Seif's latest initiative is a proposal to set up a new leadership body to unite the various opposition factions in Syria as well as abroad.
Some groups have suggested he becomes the leader of the so-called Syrian National Initiative (SNI), but he denies such aspirations himself, saying he is in too poor health to play a major political role.
'Damascus Spring'
Born in 1946 in Damascus, Mr Seif was a prominent industrialist before he decided to enter politics. He owned large textile factories which listed companies such as Adidas among their clients.
Mr Seif's political career began in 1994 when he won a seat in the People's Assembly, Syria's parliament.
He campaigned for economic liberalisation and attacked official corruption, which he described as a "virus" afflicting Syrian society.
In time, he became one of the most outspoken critics of the government.
Not long after Mr Assad succeeded his father Hafez as president in June 2000, Mr Seif, along with almost 100 intellectuals, signed an open letter calling for an end to emergency law and advocating political freedom.
He emerged as one of the leaders of the short-lived civil society movement which became known as the "Damascus Spring", organising meetings of the National Dialogue Forum at his home.
By early 2001, the authorities began to crack down on them.
Cancer
Mr Seif attracted attention in May that year when he published a report calling for a parliamentary investigation into "irregularities" in the awarding of mobile phone licences to Bashar al-Assad's first cousin, Rami Makhlouf, now one of Syria's richest men.
Three months later, he was arrested after organising a lecture to relaunch the National Dialogue Forum, despite a ban on public meetings. Charged with "seeking to change the constitution through illegitimate means", he was sentenced to five years in prison in April 2002.
Following his release in January 2006, Mr Seif complained that he was being subjected to harassment and ill-treatment by the authorities. This reportedly included refusing to allow him to leave the country in August 2007 for treatment for prostate cancer.
In January 2008, Mr Seif was among a group of 12 people arrested after they tried to revive the Damascus Declaration, an unauthorised coalition of political parties, human rights organisations and pro-democracy activists named after a document signed in 2005.
They were charged with "weakening national sentiment", "broadcasting false or exaggerated news which could affect the morale of the country", joining "an organisation formed with the purpose of changing the financial or social status of the state" and "inciting sectarian strife". Mr Seif and the 11 others were later sentenced to another two-and-a-half years in prison.
'Unified leadership'
In July 2010, Mr Seif was released after completing his sentence, eight months before mass protests against President Assad erupted.
As the uprising gained strength, Mr Seif's attended demonstrations in the capital and revived his involvement in the Damascus Declaration, along with Riad al-Turk, another leading dissident.
Mr Seif was arrested at a protest in central Damascus in May 2011 and said he was beaten by Assad supporters in October 2011.
That month, he supported the creation of an opposition coalition Syrian National Council (SNC), but it soon became seen as ineffective, consumed by infighting and little respected on the ground.
In November 2012, Mr Seif proposed the creation of the Syrian National Initiative (SNI), a new leadership group that would speak for all the major opposition factions, and include military commanders and local councils.
Mr Seif called for revolutionary and political opposition factions to "unite under one leadership framework to end Syrians' suffering and transition Syria to a democratic, civil, pluralistic, strong and stable state".
He argued that such a leadership framework would ensure that the SNI would enjoy the broad support of the Syrian people and thus had the legitimacy to be recognised as their sole representative.
There was media speculation that Mr Seif was Washington's preferred candidate to lead the SNI, but he was quick to dismiss the idea.
Speaking at a meeting to discuss the SNI in Qatar on 4 November, Mr Seif told reporters: "I shall not be a candidate to lead a government in exile... I am 66 and have health problems."
BBC Monitoring reports and analyses news from TV, radio, web and print media around the world. For more reports from BBC Monitoring, click here