Sattar Beheshti: Iran parliament to probe blogger death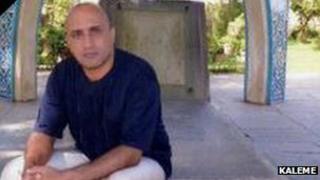 Iran's parliament is to investigate the death in custody of blogger Sattar Beheshti, officials say.
Beheshti, 35, was arrested on 30 October on charges of "actions against national security on social networks and Facebook".
Police told his family to pick up his body on Wednesday.
Iranian MPs and human rights groups had called for an inquiry, while the US said it was "appalled" by reports he was "tortured and killed" in prison.
'Cease all harassment'
Iranian deputy parliamentary speaker Mohammad Hasan Abutorabifard said on Sunday that parliament's committee on national security and foreign policy would investigate the case.
"The committee has been informed about the incident and its report will be announced to the nation and lawmakers," the official Irna news agency quoted Mr Abutorabifard as saying.
Earlier MP Ahmad Tavakoli, a conservative critic of President Mahmoud Ahmadinejad, spoke in an open session of parliament criticising the government's silence on the issue.
"Why do the foreign ministry and judiciary not explain this? A death has happened and it should be explained," Mr Tavakoli said.
The MP for Mr Beheshti's constituency also complained that he and local officials had not been informed about the case.
On Friday, US state department spokeswoman Victoria Nuland said: "We join the international community in demanding the Iranian government investigate this murder, hold accountable those responsible for Beheshti's arrest, torture and killing, and immediately cease all reported harassment of Beheshti's family."
Amnesty International said Mr Beheshti had complained of being threatened the day before his arrest.
"They sent me a message saying, 'Tell your mother she will soon be wearing black because you don't shut your big mouth,'" Amnesty quoted Mr Beheshti as saying.
Mr Beheshti spent one night in Tehran's notorious Evin prison, where he wrote an official complaint to prison authorities alleging ill-treatment, before being moved to an unknown location.