Syria crisis: Israeli tanks 'hit Syrian units' in Golan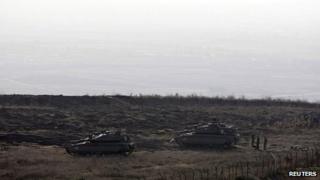 Israel's military says its tanks have scored "direct hits" on Syrian artillery units after Syrian mortar shells fell near an Israeli army post.
It comes a day after Israel fired warning shots after it said a Syrian shell hit another of its army posts on the Israeli-occupied Golan Heights.
The episode is the most serious between the two countries since the Arab-Israeli war of 1973.
Israel captured the Golan Heights from Syria in the 1967 Middle East war.
Israeli Prime Minister Benjamin Netanyahu said: "We are closely monitoring what is happening and will respond appropriately.
"We will not allow our borders to be violated or our citizens to be fired upon."
'Tough response'
It was not clear if the tank-fire caused any casualties, Israeli Army Radio reported. "The Assad army asked Israel to stop firing," it added.
While significant development, the episode does not mean Israel is being dragged into Syria's civil war, says the BBC's Wyre Davies in Jerusalem.
In fact, he adds, Israeli political and military leaders say the tank-fire is exactly the opposite - a tough but clear message to Syria that Israel will not tolerate any more bullets and mortars landing in its territory.
After the recent incidents and concerns that Syria's conflict is spilling over to neighbouring countries, Israel has warned Syria that any additional shelling, whether deliberate or accidental, would elicit a tough response.
Israel has also filed a complaint with UN forces operating in the area of the Golan Heights. The area has been relatively peaceful over the past four decades despite Israel and Syria still officially being in a state of war.
Earlier, Western nations, Qatar and Turkey welcomed the creation of a new Syrian coalition that aims to unify opposition against President Bashar al-Assad.
The National Coalition for Syrian Revolutionary and Opposition Forces was unveiled in Doha on Sunday.
The six members of the Gulf Cooperation Council have recognised the coalition as "the legitimate representative of the Syrian people".
The GCC comprises Saudi Arabia, Bahrain, the United Arab Emirates, Oman, Qatar and Kuwait.
Meanwhile, Syrian government jets and helicopters bombed the rebel-held town of Ras al-Ain, near the border with Turkey, sending civilians fleeing into the Turkish settlement of Ceylanpinar. Casualties were reported.
Observers and activists estimate that more than 36,000 people have been killed in the long-running uprising against President Assad.
Hundreds of thousands have sought refuge in neighbouring countries.