'Three arrested' over death of Iranian blogger Beheshti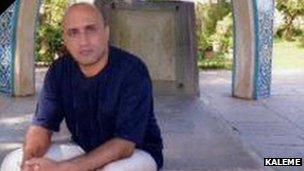 Three people are reported to have been arrested in connection with the death in police custody of Iranian blogger Sattar Beheshti, state media say.
The suspects were arrested on Monday, according to Isna news agency. An opposition website reported they were later released.
Mr Beheshti died after being held on charges of "actions against national security on social networks".
Parliament has launched an inquiry amid international outcry over the death.
"Several people were arrested [on Monday]," Tehran's public prosecutor Abbas Jafarabadi told Isna news agency.
"When we learned about [Sattar Beheshti's] death, we began an inquiry. We hope to make the findings public within the next 10 days."
According to opposition website Kalameh, the suspects had been involved in Mr Beheshti's interrogation.
It is thought Mr Beheshti was targeted for his writings on political and social issues on his blog and on Facebook.
The blogger spent one night in Tehran's notorious Evin prison on 30 October, where he wrote an official complaint to prison authorities alleging ill-treatment, before being moved to an unknown location.
Although the exact circumstances surrounding his death remain unclear, reports suggest torture may have been involved.
"The coroner's office has provided a detailed report saying that signs of wounds were found in five places on this person's body, including foot, hand, back and one of his thighs, but no broken bones," prosecutor Gholam Hossein Mohseni Ejehi said on Monday.
Mr Beheshti's family are due to pick up his body on Wednesday. They are said to have so far been prevented from visiting his grave, with the exception of his brother-in-law.
The case provoked strong criticism from politicians, human rights groups and the US, which called Mr Beheshti's death "suspicious".
Opposition MPs have accused the government of staying silent on the issue.
"Why do the foreign ministry and judiciary not explain this? A death has happened and it should be explained," MP Ahmad Tavakoli, a conservative critic of President Mahmoud Ahmadinejad, said in an open session of parliament.
On Friday, US state department spokeswoman Victoria Nuland said: "We join the international community in demanding the Iranian government investigate this murder, hold accountable those responsible for Beheshti's arrest, torture and killing, and immediately cease all reported harassment of Beheshti's family."
Amnesty International said Mr Beheshti had complained of being threatened the day before his arrest.
"They sent me a message saying, 'Tell your mother she will soon be wearing black because you don't shut your big mouth,'" Amnesty quoted Mr Beheshti as saying.